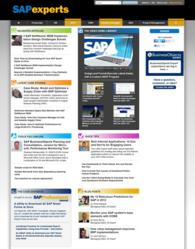 The new site takes it to the next level when it comes to serving our customers' needs.
Dedham, MA (PRWEB) May 16, 2012
WIS Publishing, a division of Wellesley Information Services, announces the re-launch of SAPexperts (sapexperts.com), a dynamic web portal with practical instruction, tutorials, and solutions-based content for technical and functional managers, end users, and consultants who work with SAP software.
SAPexperts provides its tutorials and instruction across various media formats, including video demos, articles, case studies, tips, downloadable tools and code, and blogs written by leading industry experts.
"Our SAPexperts customers have for years used our comprehensive technical articles to help them do their jobs. Now, we've expanded upon that mission to provide them with an even more diverse array of practical content," said Michael Nadeau, VP and Publisher at WIS Publishing. "The new site takes it to the next level when it comes to serving our customers' needs."
The new SAPexperts features improved search and navigation, and a format that puts much of the content out front on easily navigable hub pages. At the center of the new design are featured videos, which include tutorials, demos, webinars, and interviews with leading industry experts. The new site not only has in depth information on long-standing SAP solutions areas, but also features content on new technologies, such as HANA and mobility.
"Our extensive customer research showed us that there's a need not only for practical, deep dive SAP information, but for quick answers to every day problems," said Robert Croce, SAPexperts Product Director. "We built this site with our customers in mind, which meant we went to great lengths to also improve search and navigation."
The SAPexperts team will demo the new SAPexperts in the WIS Publishing booth at the SAPPHIRE NOW conference in Orlando, FL, May 14-16.
For more information, contact:
Robert Croce
Product Director
SAPexperts
Office: (781) 751-8653
robert.croce (at) wispubs (dot)com
sapexperts.com
About WIS Publishing
WIS Publishing is the leading independent provider of information to professionals who deploy, manage, support, configure, and customize SAP Solutions. From the largest event to a single helpful tip, and for everything in between, products and services from WIS Publishing deliver value to every customer through field-tested and validated content that helps companies find solutions to their most challenging IT and business issues.
About Wellesley Information Services
Wellesley Information Services (WIS) is the premier independent provider of SAP and IBM training and education that supports more than 250,000 business and IT professionals in 100 countries. WIS products feature award-winning content that is relevant, practical, and unique, and is consumed by business and IT professionals all over the world and in every industry. We deliver a diverse set of resources including print journals, magazines, electronic knowledgebases, online communities, conferences, seminars, and books. Visit WIS online.