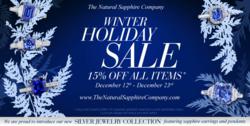 New York, NY (PRWEB) December 12, 2011
The holiday season has arrived at The Natural Sapphire Company, http://www.TheNaturalSapphireCompany.com. It will be snowing sapphires as the Winter Holiday Sale beings Monday, December 12th.
"The holidays are a time for celebrating and giving. Sapphire pendants and sapphire earrings make wonderful gifts for the season. There's just something about a blue sapphire or a ruby that is very romantic in the winter," said Michael Arnstein, CEO of The Natural Sapphire Company.
"We see a lot of couples coming into our showroom who are inspired by the season and want to get engaged with a sapphire engagement ring. Christmas is a beautiful time of year. People are home with their families and celebrating the season. It's a time to reflect on the special people in your life and let them know they're loved," stated Executive Sales Associate, Livia Brode. "December is the perfect time to propose," Ms. Brode added.
Sapphire engagement rings have soared in popularity in the past year, fueled by the royal wedding of Prince William and Catherine Middleton this past April. For their engagement in November 2010, the Prince proposed to Ms. Middleton with his mother's oval blue sapphire engagement ring. When Princess Diana received the ring from Prince Charles three decades earlier, the oval blue sapphire surrounded by diamonds sparked a fashion trend that continues today. Historically, sapphires have been favored for engagement rings amongst many royal families as sapphires are far rarer than diamonds. Her Majesty Queen Elizabeth and her sister, Princess Anne, both received sapphire engagement rings. In fact, the Queen is quite smitten with sapphires. She is frequently seen wearing blue sapphires, including the Prince Albert sapphire brooch, a large oval blue sapphire and diamond brooch that was presented to Queen Victoria for her wedding.
While they might be a favorite of monarchs across the world, sapphire engagement rings are not just for members of royal families. More and more couples are interested in selecting a sapphire engagement ring because they offer a unique alternative to the ubiquitous diamond ring. With so many sapphire colors, future brides can select the color and hue that perfectly suits them, be it a dark rich blue, a golden yellow, or a bubblegum pink. Sapphire engagement rings give the wearer the opportunity to express their personal style.
In addition to the Winter Holiday Sale, the Natural Sapphire Company is also pleased to announce a new collection of silver jewelry. Featuring sapphire pendants and earrings in a multitude of designs, jewelry from the Natural Sapphire Company's silver collection make the perfect gifts for every occasion.
Customers are invited to take advantage of the Winter Holiday Sale and receive 15% off all sapphires and sapphire jewelry. The sale will begin Monday, December 12th and run through Friday, December 23rd. Happy holidays to all!
About The Natural Sapphire Company: The Natural Sapphire Company specializes in mining, sourcing, and selling natural untreated sapphires. Founded in 1939 by Walter Arnstein, the company is now a third-generation family business. The Natural Sapphire Company supplies sapphires to retailers, jewelry manufacturers, and private clientele. The company launched its internet retail section in 1999 and has since become a popular e-commerce website. The Natural Sapphire Company is known to have the world's largest collection of natural, untreated loose sapphires, as well as offering for purchase a one-of-a-kind, 69.35 carat natural oval blue sapphire.
###