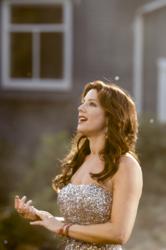 My holiday wish is that we can all find the good in everyone and in every situation and be kind to each other. I wish you all a very happy, peaceful holiday filled with love, laughter and light! ~Sarah McLachlan
(PRWEB) December 04, 2012
We are thrilled to announce the release of the new single Find Your Voice"."The soon to be holiday classic by Sarah McLachlan was co-written with longtime collaborator Pierre Marchand. The track, featuring the background vocals and percussion from the students of the Sarah McLachlan School of Music, is set to hit airwaves November 28th and is the first original holiday release since the Double Platinum Wintersong. The accompanying music video will debut in Canada on CBC November 28th and word wide December 4th.
"Christmas is a difficult time for many both economically and emotionally and I hope this Gift of Music can help in some small way." Sarah McLachlan continues "My holiday wish is that we can all find the good in everyone and in every situation and be kind to each other. I wish you all a very happy, peaceful holiday filled with love, laughter and light!"
"Find Your Voice" will be offered free of charge at SarahMcLachlan.com in the hopes that people's generosity will allow the Sarah McLachlan School of Music to continue providing exceptional opportunities for at-risk youth to learn music. 100% of the proceeds made from the song will go to support the school. The song is also be available as part of a worldwide release on iTunes and via digital music services.
Grammy award winning singer Sarah McLachlan recently completed a critically acclaimed North American symphonic tour and is set to release a highly anticipated new album in early 2013.