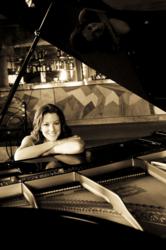 Nashville, TN (PRWEB) June 20, 2012
Imagine owning a piece of musical history complete with an original piece of artwork drawn by the legendary GRAMMY winning songstress Sarah McLachlan. Yamaha Entertainment Group is pleased to offer her biggest fan the opportunity of a lifetime with "The Sarah McLachlan Exclusive Fan Experience." In support of Sarah's upcoming Summer 2012 Symphony Tour, one lucky fan will have the opportunity to purchase a one-of-a-kind Yamaha C2 Conservatory Classic Collection grand piano inclusive of a custom designed lid drawn upon by Sarah McLachlan herself.
In addition to being a talented singer, songwriter, pianist, entrepreneur and philanthropist, Sarah is also an extraordinarily talented artist. This exclusive package for the ultimate fan also includes two premium tickets to a Sarah McLachlan summer symphony concert date of your choice between July 1st – July 8th, roundtrip airfare (up to $500) and hotel accommodations. Yamaha will also take you backstage to introduce you to the extraordinary woman behind the music and along with this rare opportunity comes a Laws of Illusion fan package.
This entire experience is priced at $50,000 with 10% of the purchase from this elite package to benefit the Sarah McLachlan School of Music. For more details and to purchase, visit http://www.sarahspiano.com.
Fans also have the opportunity to enter an exclusive sweepstakes to win a Yamaha P95 keyboard, a copy of the album Loving You Is Easy, and an autographed copy of Yamaha's All Access magazine featuring Sarah McLachlan on the cover.
It's easy to enter and no purchase is necessary. The sweepstakes begins June 14, 2012 at 10:00 a.m. CST and ends July 26, at 10:01 a.m. CST. One grand prize will be chosen at random from all entries received. For additional details, visit http://www.Facebook.com/YamahaEntertainmentGroup. One entry per person. Please see official rules for details.
Yamaha's commitment to the continuous reevaluation of the core processes of sound creation has made the grand pianos of the C series the best-selling grand pianos in the world. The technically demanding regulation process that is essential to a grand piano's superior tone is given special emphasis in these instruments. Countless hours have been spent perfecting the hammers, strings, and the balance of the damping mechanism, with the final goal of rendering each and every note faithful to the intentions of the pianist.
The Sarah McLachlan School of Music is a permanent afterschool music school that offers free music education to vulnerable youth in Vancouver's inner city. Sarah's vision for the school is to inspire both new and existing students to explore their creative potential.
To catch Sarah on tour this summer visit http://www.SarahMclachlan.com for a complete listing of dates and cities.
For more information on Yamaha products, write Yamaha Corporation of America, P.O. Box 6600, Buena Park, CA 90622; telephone (714) 522-9011; e-mail infostation(at)yamaha.com; visit http://www.yamaha.com/press. For more information on Yamaha's record label Yamaha Entertainment Group, visit http://www.yamahaentertainmentgroup.com.
About Yamaha
Yamaha Corporation of America (YCA) is one of the largest subsidiaries of Yamaha Corporation, Japan and offers a full line of award-winning musical instruments and sound reinforcement products to the U.S. market. Products include: Yamaha acoustic, digital and hybrid pianos, portable keyboards, guitars, acoustic and electronic drums, band and orchestral instruments, marching percussion products, synthesizers, professional digital and analog audio equipment, Steinberg recording products and Nexo commercial audio products. YCA markets innovative, finely crafted technology products and musical instruments targeted to the hobbyist, education, worship, professional music and installation markets.
About Yamaha Entertainment Group
Yamaha Entertainment Group is a boutique, one-stop shop, record label developed to be the champion of the musician with the backing power of the largest music manufacturer in the world. YEG is branding, promotion, concert production, content development, product placement, tour support, piano logistics and artist relations, all rolled into one. Home to more than 3,600 talented artists, YEG is responsible for the development and advancement of the Yamaha brand name through numerous artist related activities worldwide.