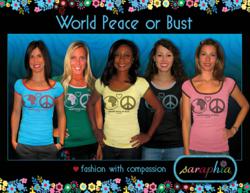 "Taking the line in a humanitarian direction has been a long-time goal and an aspiration for our brand,"
notes Saraphia Founder and Designer, Sarah E. Phelps.
New York, NY (PRWEB) June 20, 2011
In honor of World Refugee Day, Saraphia, a designer activewear label for girls, announces its launch of a special edition "World Peace or Bust" t-shirt to raise money and awareness for the United Nations High Commissioner for Refugees (UNHCR). http://www.worldpeaceorbust.com/
25% of the net proceeds of the E-Commerce sales of the tees will be donated to the UN Refugee Agency to help aid in the assistance of some 36 million refugees seeking political asylum; people who have been forced to flee their homes to seek safety and protection from war and political injustice.
The Saraphia label, whose motto is "making the world a little more beautiful one T-shirt at a time", specializes in girlie tees that are known for their flattering fit. Manufactured "with love" in the U.S.A, they are made of 100% ribbed stretch cotton and available in blue, green, yellow, black and pink (S, M, & L). http://www.saraphia.com/
"Taking the line in a humanitarian direction has been a long-time goal and an aspiration for our brand," notes Saraphia Founder and Designer, Sarah E. Phelps. She hopes to bring awareness of the UNCHR and its objectives to the younger generation that has made her brand so popular. "The fashion industry hasn't always been known for its altruistic platform and we are hoping to help change that with our 'fashion with compassion' campaign. If our new 'world peace' tee can help the UNHCR's mission reach one more young girl who may have otherwise been unaware of it, we'll feel like we're doing our part."
For more information or to receive product samples please contact Sarah E. Phelps at 347-418-5823 or email: sephelps(at)saraphia(dot)com To request a press kit please email Simone de la Huerta: simone(at)worldpeaceorbust(dot)com
###