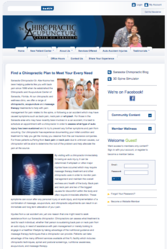 Our new website will really act as an extension of our practice where patients can find important information that they're looking for between visits.
Sarasota, FL (Vocus/PRWEB) April 05, 2011
The Chiropractic and Acupuncture Center of Sarasota, FL provides spinal adjustments, massage therapy and pain management plans for patients in the surrounding communities. The Center's chiropractor, Dr. Abe Kozma, offers rehabilitation and relief for patients who have suffered car accident injuries or who currently suffer from neck pain or back pain. The Center's new website, http://www.sarasotaclinic.com, has been recently designed and expanded to include features and resources for new and existing patients. The new features include the ability to request an appointment online, access to the chiropractor's blog, and the ability to search an online library of chiropractic information.
Dr. Kozma intends for the newly designed website to be a useful tool for patients to utilize during the course of their chiropractic or wellness treatment plans. "Our new website will really act as an extension of our practice where patients can find important information that they're looking for between visits," Dr. Kozma said. Patients are able to access and comment on articles about chiropractic care, acupuncture and massage therapy on the doctor's blog on the website. Visitors to the website can also sign up to receive regular newsletters that have educational and information articles on topics such as pain management, dealing with car accident injuries, and treatment of neck pain and back pain.
Patients and website visitors can also search through chiropractic and alternative medicine related articles under the tab "Community Content" on the Center's website. Visitors do not need to be website members to access this library of chiropractic information on the website, but free website membership is an option. The free website membership includes access to further information on healthy living and wellness articles and tips under the "Member Wellness" section. Prospective patients interested in learning about Dr. Kozma and his Center are able to browse sections on the website to view the services available at the clinic, driving directions, hours, existing patient testimonials, and information about Dr. Kozma and his methods of treatment. New patients are able to visit the "New Patient Center" tab on the Center's website to download forms to complete before their first visit, virtually tour the office, see what types of payment the office accepts, and learn about the different stages of chiropractic treatment.
In addition to these features and resources, the website has a section devoted to auto accident injuries. The section describes the benefits of chiropractic care, pain management, and massage therapy in treating patients with car accident injuries such as whiplash, back pain, and neck pain. Dr. Kozma has years of experience treating patients with these types of injuries and is prepared to work with patients on rehabilitation and recovery. The chiropractor offers consultations for prospective patients who have suffered injuries or have any type of chronic pain. Interested patients can visit the Center's website for further information on the services the Center provides, to make an appointment online, or to access contact information for the Sarasota clinic.
###