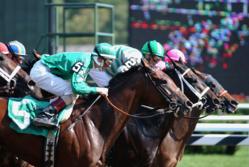 Saratoga's attractions and spectacular scenery have made it a premier Northeast destination for centuries.
Saratoga Springs, NY (PRWEB) July 10, 2012
World-class Thoroughbred horse racing, the performing arts, family attractions and much more await visitors to Saratoga, New York this summer.
Another 40-day schedule is set to begin Friday, July 20th through Labor Day, Monday, September 3rd, 2012 for the 144th season at the historic Saratoga Race Course. World-class thoroughbred racing action in America's oldest sporting venue, will boast sixteen Grade 1 stakes races, as well as four Breeders' Cup Challenge races. The highlight of the summer will be the 143rd running of the oldest stakes race in the country, Saturday, August 25th with the Grade 1, $1 million Travers Stakes. This year's racing meet will host numerous festivities, including the Hats Off To Saratoga Festival, July 20th – 21st, with sunset racing, a hat contest and live downtown musical performances and the Final Stretch Festival, September 1st– 2nd, with sunset racing, a family fun fest, graded stakes races and downtown music on Saturday and Sunday nights. A complete schedule of events is available online at http://www.nyra.com, while getaway package and festival information can be found at http://www.saratoga.org.
The Saratoga Performing Arts Center (SPAC) will open their summer classical season with the elegance and grace of the New York City Ballet which will take center stage July 10th through July 21st, for their 46th summer residency in Saratoga. One of the preeminent orchestras in the world, the Philadelphia Orchestra, will make Saratoga its home August 1st – 18th, highlighted by Yo Yo Ma, Joshua Bell, Cirque de la Symphonie, Sinatra and Beyond and more. SPAC is also home to Modern Dance (June 7), Opera Saratoga (July 6 - July 15), The Saratoga Chamber Music Festival (July 29 – Aug 14) and several major music pop and rock concerts throughout the summer. Visitors can find more information on performances at http://www.spac.org.
Saratoga's equine traditions continue with over 100 years of polo and over 70 years of harness racing. Saratoga Polo will begin its 2012 season, July 6th through September 2nd, showcasing the sport of kings every Friday and Sunday. Visitors will find live harness racing on a beautiful half-mile track all summer long at the Saratoga Casino and Raceway, alongside more than 1,700 gaming machines, a popular nightclub and numerous dining options. Learn about famous race horses of the past and racing history at the National Museum of Racing and Hall of Fame, which has interactive exhibits and a horse racing simulator.
Visitors can relive one of the most important battles in world history at Saratoga National Historical Park, site of the "Turning Point" of the American Revolution. The park is host to numerous events throughout the year, including guided walks and bike rides, reenactments, July 4th citizenship ceremony and weekend-long celebration September 15th & 16th for the 235th Anniversary of the Battles of Saratoga. For more information and schedule of events go online to http://www.nps.gov/sara.
Saratoga County has a number of museums, art galleries and historic landmarks, including the New York State Military Museum, Tang Teaching Museum & Art Gallery at Skidmore College, Grant's Cottage, the Saratoga Automobile Museum, Brookside Museum and the Children's Museum at Saratoga. For a complete list of museums, art galleries and historical sites, go online to http://www.saratoga.org.
Saratoga County is also rich in affordable, unique and high quality golf courses, including the award-winning Saratoga National Golf Club. Named one of the Top 100 public courses in America by Golf Digest, it is one of fourteen courses to tee off at in the area. Special golf getaway packages are available online at http://www.saratoga.org.
Visitors interested in spending time outdoors will find over 10,000 acres of parks, trails, lakes, rivers and scenic beauty nestled between the banks of the Hudson River and the southern foothills of the Adirondacks.
A visit to Saratoga is economical with a number of event and festival stay packages that include attractions, dining and special gifts. For more getaway package details or for a free travel guide, visitors can go online to http://www.saratoga.org or call 1-800-526-8970.
About Saratoga, New York
Saratoga's attractions and spectacular scenery have made it a premier Northeast destination for centuries. Located approximately three hours from New York, Montreal and Boston, Saratoga features world-class horse racing, the performing arts, gaming, polo, award-winning golf courses, museums – including three National museums, a National Battlefield, Victorian architecture, great shopping, plentiful outdoor activities and so much more.
Visitor information is available online at http://www.saratoga.org or by calling 1-800-526-8970. The Saratoga County Chamber of Commerce is the official Tourism Promotion Agency of Saratoga County, New York.