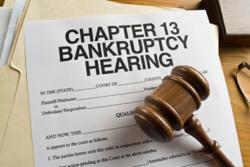 "The Bankruptcy Trustee or Bankruptcy Administrator's Office will pursue debtors for misstatements and failure to list income or assets which can negatively affect them both civilly and criminally"
Cary, North Carolina (PRWEB) August 27, 2012
Consumer debtor is faces adversary proceeding in Bankruptcy Court brought by the Chapter 7 Trustee. In the case of DeAngelis v. Williams, 2012 WL3564027 filed in the Middle District of Pennsylvania, debtor is being accused of failure to disclose all income and other additional errors and omissions in his schedules and statements on his bankruptcy petition. This raises an important issue that needs to be stressed to any consumer that is contemplating bankruptcy.
Bankruptcy is a very powerful and useful tool in our society. Filing for protection under Chapter 7 or Chapter 13 allows consumers to obtain a "fresh start" and get out from under the burden of excessive debts and obligations. Bankruptcy can also be an effective tool to help consumers save their homes and automobiles, providing them an extended period of time to catch up on late or outstanding balances.
However, as with everything in life, Bankruptcy requires certain concessions and imposes certain responsibilities on consumers once they file. When a consumer files for protection under the bankruptcy code they must certify under penalty of perjury that the information contained in their petition is "true and correct" and that the individual consumer is specifically requesting relief under the bankruptcy code. There are no less than five separate sections of a typical bankruptcy petition where the consumer must state under penalty of perjury that the information provided is "true and correct."
It is therefore imperative that consumers take the time to read and understand what they are about to sign. If a consumer is represented by an attorney, which most consumers are, they should insist that the attorney reviews the petition with them personally to ensure that the consumer understands and agrees to the correctness of the petition. Consumers should also request a copy of their petition as filed with the court.
When asked about this Dennis Jay Sargent Jr, an attorney that focuses his practice on consumer bankruptcy, stated that "The Bankruptcy Trustee or Bankruptcy Administrator's Office will pursue debtors for misstatements and failure to list income or assets which can negatively affect them both civilly and criminally"
So what is a consumer to do? Consumers should know that the three most important words in bankruptcy are "Disclosure, Disclosure and Disclosure." Honesty and full disclosure are the most important things that a consumer can do to protect themselves from civil and criminal penalties as a result of inaccurate or mistaken information on their petitions.
An attorney or paid bankruptcy preparer may be at fault for a mistake on a consumer's petition, but the consumer is the individual that will be ultimately held responsible, and face the consequences for, the mistake in the end because of those four little words, "under penalty of perjury".
About The Law Office of Dennis Jay Sargent Jr, PLLC
The Law Office of Dennis Jay Sargent Jr, PLLC is a Cary / Raleigh based law practice primarily focusing on Chapter 7 & Chapter 13 bankruptcy. Their goal is to provide individuals and families the peace of mind when dealing with stressful and difficult decisions regarding their home and property. They strive to put the client first, helping to guide them down the legal process path. Caring and compassion is the cornerstone for which they base their practice on. Free initial consultations are available as well as evenings and some weekends when needed. Contact them at http://www.SargentLawNC.com or call 919-654-4545 for more information.
The Law Office of Dennis Jay Sargent Jr, PLLC is a debt relief agency, helping people in the Raleigh metro area file for Chapter 7 or Chapter 13 bankruptcy relief under the United States Bankruptcy Code. They are a proud member of the National Association of Consumer Bankruptcy Attorneys and the American Bankruptcy Institute.