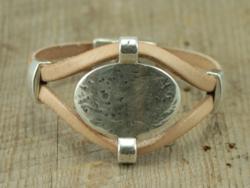 In the wearing, this piece is a reminder that we are all "Power Girls."
Boston, MA (PRWEB) May 08, 2013
Artisan jewelry line SariBlue® (http://www.sariblue.com), best known for its Baby Belly Bells™ maternity necklaces, will be featured at GBK's Luxury Celebrity Gift Lounge for the 2013 Cannes Film Festival, taking place May 17-20 at an exclusive location in Cannes, France. Select pieces from the new SariBlue® Leather Collection will be on display and the company's Monaco Blue Lapis Lazuli Earrings will be included in Celebrity Gift Bags.
The SariBlue® Leather Collection is in keeping with designer/founder Christine Lorenzo's philosophy that the perfect piece of everyday jewelry will be beautiful, simply designed and, through the incorporation of meaningful focal elements, "add a bit of peace, positivity and a bit of fun to the wearer's style."
For the Cannes Gift Lounge display, Lorenzo is showcasing an edited selection of pieces from the Leather Collection, including the unisex black leather "Infinity Bracelet" and the natural-toned leather "Power Girl Bracelet."
The "Power Girl Bracelet" is one of Lorenzo's favorites, both for its versatility as a fashion accessory and for what it symbolizes. "There isn't a day that goes by where I'm not inspired by the wisdom, strength and perseverance of the women around me," remarked Lorenzo. "In the wearing, this piece is a reminder that we are all 'Power Girls.' "
Celebrities and press that pick up a The Artisan Group gift bag will find nestled inside a pair of SariBlue® "Monaco Blue Lapis Lazuli" earrings. The earrings showcase a rich, deep blue Lapis Lazuli with traditional blue evil eyes, silver-star spacer beads, sterling silver hooks and small ball beads. "These earrings offer a lovely monochromatic look," noted Lorenzo. "And of course the color is very appropriate for Cannes."
Watch a SariBlue® video.
In addition to being featured at the Cannes Gift Lounge, SariBlue® Baby Belly Bells™ are being gifted to some of Hollywood's hottest Moms and Moms-to-Be in a 2013 Mother's Day Celebrity Gift Bag presented in partnership with The Artisan Group. The trademarked Baby Belly Bells are maternity necklaces incorporating the Evil Eye Bead (a traditional protective amulet) and a bola chime in a long pendant worn over the pregnant belly to help calm and protect the unborn baby.
The SariBlue® Leather Collection is available on the SariBlue website. Follow SariBlue® on Facebook (facebook.com/SariBlueJewelry) and Twitter (@BigandSari). Retailers interested in carrying SariBlue® Baby Belly Bells™ can request a catalog by calling Christine Lorenzo at +1 (978) 833-2501.
ABOUT SARIBLUE®
SariBlue® (http://www.sariblue.com) is an earthy, bohemian, wear-it-everyday jewelry collection centered on the power and theory of the universally recognizable symbol: the Evil Eye. With a focus on glass beads handcrafted via ancient eco-friendly methods, the collection ties together past and present in a distinctive way, adding protection through the talisman.