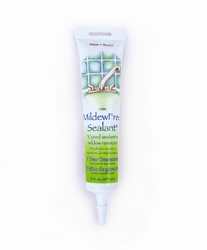 Brighton, CO (Vocus) July 9, 2008
A clean home is a comfortable home, but there is nothing clean about mildew. Mildew growth is unsightly, can produce an unpleasant odor, and, if not addressed has the potential to pose health risks over time.
Most desire a clean home, but increased environmental awareness is also motivating many people to seek natural, non-toxic methods and products to keep things clean, green, and mildew free. Follow these simple and easy tips from Sashco Sealants to reduce or eliminate mildew growth in your home, naturally.
Get some air!
Allowing fresh air to ventilate the home is one of the fastest, easiest and least expensive ways to prevent excess humidity that creates conditions where mildew flourishes. Simply keeping the humidity of your home under 45% deters mildew growth significantly.
Make a trip to the kitchen
Many of the natural ingredients needed to help keep mildew growth at bay can be found in your kitchen cupboard. Try spraying one of these natural combinations directly on areas of mildew, do not rinse.
Tea tree oil: Combine 2-teaspoons of tea tree oil with 2-cups water in a spray bottle.
Grapefruit seed extract: Combine 20-drops of grapefruit seed extract (available in most health food stores) with 2-cups water in a spray bottle.
White vinegar: Straight white vinegar reportedly kills 82 percent of mold. Pour white distilled vinegar straight into a spray bottle, do not dilute.
Expert from Annie B. Bond, author of Home Enlightenment (Rodale, 2005).
Seal Surfaces Wisely
Reduce environmental impact by choosing an earth friendly sealant like MildewFree Sealant* to caulk, or reseal kitchens and bathrooms. MildewFree Sealant* has a low VOC (low volatile organic compound) content, cleans up with water without the use of toxic solvents, provides long durability for less waste, and contains no dangerous isocyanates that can cause dermatitis and asthma when touched or inhaled. It's both user and environmentally safe. MildewFree Sealant* is available in 6 oz. squeeze tubes in both white and linen. For more information about MildewFree Sealant* or to locate retail locations for purchase visit http://www.sashco.com or call 1-800-289-7290.
Keep it natural
Use natural cleaners like Naturally Clean™ products that use vegetable based enzymes to break down the organic materials that support mildew growth, or Earth Friendly Products® that are non-petroleum based and naturally derived cleaners.
About Sashco:
Since 1936, from chimney to foundation, Sashco Sealants has been manufacturing high performance caulks and sealants for specific home improvement and repair applications. Sashco's line of home improvement products includes: Lexel – the first clear caulk in the clear tube; Big Stretch – for doors, windows and siding - won't crack it just stretches; Mor-Flexx – textured mortar and stucco repair; Through the Roof – clear, flexible, permanent roof repair.
*Cured sealant is mildew resistant
Contact:
Sarah Shaffer
Public Relations Coordinator
Sashco Sealants
303-286-7271
sshaffer@sashco.com
###