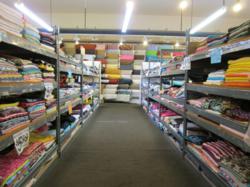 The items entered in the contests will be displayed at the store and voted by the customers and staff.
Hawthorne, CA (PRWEB) December 30, 2011
Picture a building of 18,000 square feet holding all sorts of fabric imaginable along with laces and trims at rock bottom deals, not to mention hundreds of sewing notions and crafts. This liquidator of end of bolt, promotional, discontinued and overproduction textiles sells unique fabrics by the pound or by the yard. SAS Fabrics has a sister store, Fabric Outlet & Crafts, in Stanton, California, making it easier for shoppers in Orange County.
From sewing to costume creation to reupholstering furniture or embellishing the home or church for that special occasion like a wedding or quinceanera, SAS Fabrics will make creations come to life without straining the budget. One can find buttons, zippers, broad cloth to ornate brocade upholstery fabric, original African prints and mud cloth and everything in between. The store also has an ever changing line of products from hair clips, scarves, leggings, hats to home décor accessories, and crafts.
The helpful staff at SAS Fabrics put many of their own creations on display and will gladly share their knowledge. Stop by SAS Fabrics and let inspirational ideas soar.
Huge Selection for all Sewing, Costume, Quilting, Craft & Home Décor Projects

Silk, satin, organza, sheer, chiffon, lame
Bridal satin, embroidered organza
Sequin fabric, appliqués
Velvet, stretch velvet, faux fur
Cotton prints, seasonal prints, holiday prints
Quilting fabric, African prints, Indian prints
Apparel fabric, rayon fabric, suiting material
Vintage fabrics, vintage buttons, vintage floral items
Jersey knits, spandex fabric, swimsuit fabric
Linen, knits, denim fabric, flannel
Suede, polar fleece, mud cloth
Drapery, curtain, tapestry, tassel drapery tie-backs
Upholstery, vinyl, burlap, home décor fabric
Foam, batting, polyester pillow inserts
Ribbons, notions, lace, trims, rhinestones, beads
Yarn, silk flowers, craft items
Thread, zippers, elastic, buttons, boning, sewing needles, velcro
Quotes from Customers of SAS Fabrics
"What an amazing and diverse selection!" states Cerise R. of Torrance, CA.
"The prices here are unbeatable," exclaims Sara B. of Hermosa Beach, CA.
"I love this place! Amazing hidden gem. Gorgeous vitntage fabric. Fabulous service!" exclaims Didi L. of Hawthorne, CA.
"I got the fabric I wanted, the service was amazing and I am now I am heading back just to see what else they have," states Casey S. of Redondo Beach, CA.
"Lots of choices and helpful staff," states Kiran L. of Rolling Hills, CA.
"I never go into SAS looking for something specific. I'm always inspired somehow and end up with a basket of stuff. Plus, there are plenty of items that change regularly," states Gina F. of Gardena, CA.
"The prices are amazing; you could embellish a dance troupe on a very tight budget," states Yelp reviewer.
"Been shopping at SAS since I was a kid. Unique fabrics and notions at very reasonable prices! This is the only way I got through fashion school," states J.D. of Manhattan Beach, CA.
"You'll be inspired to start or finish that project. And, by getting your fabric here, it will cost you a whole lot less," states Yelp reviewer.
SAS Fabrics
13500 Hawthorne Blvd.
Hawthorne, CA 90250
(310) 978-8985
Gift Certificates available!
Visit SAS Fabrics' sister store in Stanton, CA (Orange County).
Fabric Outlet & Crafts
10450 Beach Blvd.
Stanton, CA 90680
(714) 995-2723
# # #