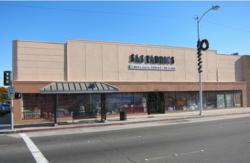 There are a ton of options. Prices are very good. Beware though, walking the store could possibly get you hooked to making more creative things.
Hawthorne, CA (PRWEB) August 31, 2012
SAS Fabrics in Hawthorne will make creations come to life without straining the budget. This liquidator of end of bolt, promotional, discontinued and overproduction textiles sells unique fabrics by the pound or by the yard. SAS Fabrics has a sister store called Fabric Outlet & Crafts in Stanton, California, making it easier for shoppers in Orange County.
"What a great secret this place is. Fabric selection is rad AND I'm in love with the sweet ladies who work there. I'm definitely a fan," says Raylene G. from Long Beach. From costume designers and serious quilters to fashion designers and upholsterers, the customers of SAS Fabrics come from near and far to discover rare finds at exceptional prices.
The helpful staff often displays their sewing and craft creations and will gladly share their ideas, knowledge, and expertise to assist customers with any project. Belle A. from Norwalk commented, "The workers are very friendly and very helpful. I don't sew very much, but they didn't make me feel dumb when asking easy questions. They were kind enough to advise me on how much material I needed for my project, and even brought out more fabric for me. I figure, these people know more than I do, so I took their advice."
This fabric store is 18,000 square feet big. They sell all sorts of fabric imaginable along with laces and trims at rock bottom deals, not to mention hundreds of sewing notions and crafts. The SAS fabric store also has an ever changing line of products with seasonal fabrics and hard to find prints. "There are SO many fabrics in this store, of all colors and types, and both solids and prints," Dawn C. from La Mirada notes.
As evident, customers love SAS Fabrics! Sara B. from Hermosa Beach commented, "The prices here are unbeatable." Kiran L. from Rolling Hills expresses, "Fabric by the pound = cheap fabric! Lots of choices and helpful staff." Jenn S. from Los Angeles adds, "There are a ton of options. Prices are very good. Beware though, walking the store could possibly get you hooked to making more creative things."
SAS Fabrics Carry a Huge Selection for all Sewing, Costume, Quilting, Craft & Home Décor Projects.
Silk, satin, organza, sheers, chiffon, lame
Bridal satin, embroidered organza
Sequin fabric, appliqués
Velvet, stretch velvet, faux fur
Cotton prints, seasonal prints, holiday prints
Quilting fabric, African prints, Indian prints
Apparel fabric, rayon fabric, suiting material
Vintage fabrics, vintage buttons, vintage floral items
Jersey knits, spandex fabric, swimsuit fabric
Linen, knits, denim fabric
Suede, polar fleece, mud cloth
Drapery, curtain, tapestry, tassel curtain tie-backs
Upholstery, vinyl, burlap, home décor fabric
Foam, batting, polyester pillow inserts
Ribbons, notions, lace, trims, rhinestones, beads
Yarn, silk flowers, craft items
Thread, zippers, elastic, buttons, boning, sewing needles
SAS Fabrics
13500 Hawthorne Boulevard
Hawthorne, CA 90250
(310) 978-8985
Gift Certificates are available!
Visit SAS Fabrics' sister store in Stanton, California (Orange County).
Fabric Outlet & Crafts
10450 Beach Blvd
Stanton, CA 90680
(714) 995-2723