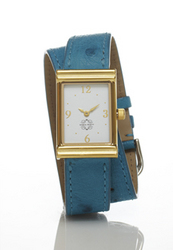 New York, NY (Vocus) May 20, 2010
Sasha Rhett is a new watch collection founded on the simple idea that it should be possible to have a fun, high-quality watch that speaks to your personal style and is also wearable with everything in your closet. Sasha Rhett offers superior timepieces that allow everyone to create their own personal watch wardrobe with interchangeable straps in genuine leather and exotic skins. Sasha Rhett watches use Swiss movements and are available in stainless steel or 18kt gold plated. They retail from $159-$249 and additional interchangeable straps retail from $49-$69.
Sasha Rhett's interchangeable straps are available in solid colored snakeskin and ostrich, as well as strategic color combinations in zebra prints, stripes and more. The mechanism to switch the straps is both simple and extremely secure.
Sasha Rhett creator Alexandra Daum is a recent Harvard graduate (Class of 2010) and New York City native with an innate sense of style and an understanding of what the modern consumer is looking for in accessories. "While I love color and prints, sometimes you just need a classic watch, too. Women today demand a lot of their fashion purchases. They want items that serve multiple functions within their entire wardrobe, and of course they want high quality and affordability. With Sasha Rhett, you can buy a novelty watch in your favorite bright color or pattern that is also practical when you switch the strap to a neutral solid." explains Alexandra.
Sasha Rhett watches and straps can be purchased at http://www.sasharhett.com and fine specialty stores nationwide including Darien Sport Shop (Darien, CT), Petticoat Lane (Greenwich, CT), Passport (Cambridge, MA), Kicks (Menlo Park, CA) and more.
Find Sasha Rhett on Twitter @SashaRhett and Facebook.
###