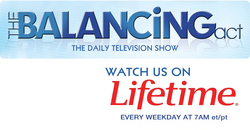 Brighton, CO (Vocus) September 11, 2008
The next edition of The Balancing Act, the television series dedicated to addressing the issues facing today's professional woman, will feature Sashco's MildewFree Sealant* as a part of September Mold & Mildew Awareness Month. MildewFree Sealant* is distinctive among other tub and tile caulks on the market. MildewFree Sealant* offers a one-of-a-kind 7-year replacement warranty. MildewFree Sealant* is guaranteed for seven years to prevent mildew growth on the sealant. If mildew growth occurs on the sealant (not on soap film), within seven years of purchase, Sashco will replace the product and provide a contractor for re-installation. MildewFree Sealant* is resistant to damage from abrasive cleaners, maintains a water-tight seal, is easy to apply and is ideal for kitchen & bath applications or for resetting tiles. MildewFree Sealant* is available in two popular colors, both white and linen. Learn more about MildewFree Sealant* at http://www.sashco.com .
The BALANCING Act on LIFETIME TELEVISION is an original, compelling, informative, weekday half-hour television series that empowers women seeking personal and professional growth while managing a career, family and home. An engaging early morning talk show with content about family, home, health, career, style & beauty, cuisine & beverage, finance entertainment, travel and special features. These segments are solution-rich, in a "news-you-can-use" style with branded storytelling dedicated to creating new opportunities and ideas for women. Life is a "BALANCING Act" ... harmonizing family, career and self.
Hosted by a talented mix of hosts, including Danielle Knox, Wendy Walsh, Kim Alexis and Kathy Peterson, this group brings eclectic knowledge and presence that brightens the production in the eyes of an estimated 400,000 plus daily viewers watching the show on LIFETIME TELEVISION.
Five Star Entertainment is an Emmy Award-winning multi-media television and motion picture company with corporate headquarters and studios located in Boca Raton, Fl. Five Star Entertainment produces national and worldwide syndicated television shows and series that meet network quality standards and procedures. Five Star Entertainment shows are aired in as many as 53 countries worldwide. In addition to their current line-up that includes the daily series of The BALANCING Act and the Syndicated Show TODAY'S HEALTH and Hi-TECH TOYS, they have produced Dive Today, a weekly series on the Outdoor Life Network, as well as, Parenting and Beyond, Today's Environment, The Best of Wine and Food and INSIDE THE NHL, a weekly radio program that aired across North America for 5 seasons. As a company they continue to be actively involved in numerous regional and local community activities, television sports, charities, event productions and "breaking News" such as their role in broadcasting the recent Lou Dobbs Live from The Breakers Hotel Nationally on CNN. Their recent video of Sarah Silverman and Matt Damon, which they Co-Produced, was shown live on The Jimmy Kimmel Live 5th Anniversary Show on Jan. 30. The video was selected as the most popular viewed video in the world that week by all the major entertainment and lifestyle magazines.
Five Star Entertainment President and Founder, Scott Woolley, was named Ernst and Young's 1999 Florida Entrepreneur of the Year and named a member of the Ernst and Young Entrepreneur of the Year Hall of Fame in 2000.
*Cured sealant is mildew resistant.
Publicity-Five Star Entertainment
561-279-7827
http://www.vstar.com
Sarah Shaffer, Sashco Sealants
303-286-7271
http://www.sashco.com
###