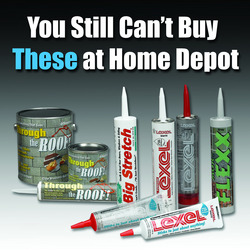 Brighton, CO (Vocus) February 10, 2009
A difficult retail climate and depressed lumber market, render the reality of making every square inch of showroom space profitable more important than ever before. The ever present battle for the consumer's dollar has been magnified by an all time low in consumer confidence.
So business is challenging - a politically correct phrase for - business really stinks! Sashco Sealants suggests steps you can take to maximize the limited sales there are now, and how you can differentiate yourselves from the competition to attract the limited consumer dollar.
It's back to basics - Merchandising 101.

Building off-shelf displays, such as end caps, can increase sales by 25% according to a study done by the Retail Hardware Research Foundation. The study notes that most end caps increase sales, but an effective display, with signage clearly conveying savings, or other consumer benefits will have the greatest impact on increasing sales.

Select high margin items, increasing sales of a products with low or no margins do little to impact your bottom line.

Adapt the end cap to fit a theme, for instance energy savings. Make sure the display communicates the advantages of the product, or project, and how it benefits the consumer. For instance, take time to find out if any rebates from local utilities or municipalities are available and incorporate that benefit information into the end cap theme.

Consumers like to touch and see actual demonstrations of the product application. Any hands-on displays, or product examples available (or make your own) of the product at work help sales.

Offer a product or service that the competition does not stock or offer. Promoting products that don't experience the daily price pressure exerted by the Box Stores offer a greater opportunity for increased margin dollars.

When selecting the products to buy, stock and promote, consider the support the manufacturer offers you to help increase value. For instance, Sashco Sealants, manufacturer of Lexel, Big Stretch, Through the Roof, Mor-Flexx, and Mildew Free, not only provide high performance products, but also provide effective literature, hands-on display units, and unique signage and banners with the impactful product position statemenstatement that YOU STILL CAN'T BUY THESE AT HOME DEPOT!
About Sashco:
Since 1936, from chimney to foundation, Sashco Sealants has been manufacturing high performance caulks and sealants for specific home improvement and repair applications. Sashco's line of home improvement products includes: Lexel - the first clear caulk in the clear tube; Big Stretch - for doors, windows and siding - won't crack it just stretches; Mor-Flexx - textured mortar and stucco repair; Through the Roof - clear, flexible, permanent roof repair.
Contact:
Sarah Shaffer
303-286-7271
###