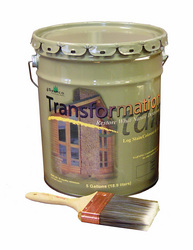 Brighton, CO (Vocus) May 1, 2008
Sashco Sealants, a Colorado based manufacturer of coatings and sealants, has been nominated within the category of stains and finishes for the 2008 GREEN LOG Home & Lifestyle Awards™.
Sashco Sealants specializes in manufacturing high-performance finishing products for log homes that include fully compatible stains, caulks, and chinking.
Transformation Stain™, Sashco's newest addition to their stain line is formulated with resins based on renewable resources, such as safflower, linseed, and Tung oil, rather than petroleum-based chemicals. Transformation Stain™ is also available in a VOC compliant formula. The Transformation Stain™ VOC compliant formula utilizes a solvent that is non-photochemically reactive, so it does not generate ground level smog. Sashco took special care when formulating Transformation Stain™ for long-term durability and performance to decrease the frequency and need to re-apply, or re-stain so as often as other stains on the market. Longer durability results in reduced product consumption and the resulting waste. To further reduce waste, Transformation Stain™ is packaged in fully recyclable metal pails.
Many of Sashco's products including the Capture & Cascade stain system, and sealants like Log Builder, Log Jam, Chinker's Edge, and Conceal are all totally water based products that offer earth, animal and human friendly water-clean up without the use of mineral spirits or other harsh chemicals that pollute the air, ground, and water and are toxic to both humans and animals.
Wayne Summons, Vice President & Technical Director at Sashco Sealants explained that, "We are thrilled about this important nomination, and are proud to be included amongst companies who are committed to providing environmentally responsible products. While we have more to do to make overall improvements in making all of our products green, we are committed to offering our customers the highest quality products that they're accustomed to from Sashco, while also helping to contribute to building a greener world."
The GREEN LOG Home & Lifestyle Awards™ program was created in response to the growing demand for green building solutions, products, and information. The goal behind awarding this recognition is to locate and shine a spotlight on those companies and individuals who are enabling healthier homes and lifestyles by way of excellence in environmentally sound home building and green living products. The GREEN LOG Home & Lifestyle Awards™ program was founded by the non-profit organization, Green Log Awards, Inc., in cooperation with the Environment News Service (ENS).
About Sashco:
Since 1936, from chimney to foundation, Sashco Sealants has been manufacturing high performance caulks and sealants for specific home improvement and repair applications. Sashco's line of home improvement products includes: Lexel – the first clear caulk in the clear tube; Big Stretch – for doors, windows and siding - won't crack it just stretches; Mor-Flexx – textured mortar and stucco repair; Through the Roof – clear, flexible, permanent roof repair. Visit Sashco online at http://www.sashco.com.
Contact:
Sarah Shaffer
Sashco Sealants, Public Relations Coordinator
303-286-7271
sshaffer @ sashco.com
###