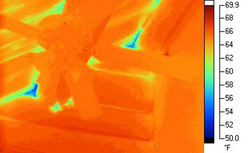 My Zero Failures training has made me more money than any other schooling I've ever done, including high school and college.
Brighton, CO (Vocus) July 8, 2008
Colorado based Sashco Log Home Products introduces Insector Detector, a brand new thermographic log home scanning and diagnostic training course. The Insector Detector program provides distinctive education as one of the first of its kind in the industry to train on the thermographic imaging technique specifically for use in log homes. Sashco has also expanded and enhanced their industry renowned Zero Failures Seminar, a technical course that trains contractors to enter the lucrative field of log home finishing and maintenance.
Significant downturns in the housing and construction markets, and their resulting impact on the economy, make finding a niche service and new avenues for added income more important than ever before for many contractors. And bands of other professionals who find themselves out of work after suffering the IT fallout are exploring innovative new careers paths. For both groups, learning about Sashco's unique training opportunities is like finding a hidden treasure.
Despite the difficult housing market, log home building continues to gain popularity and is still the preferred style of home for many baby-boomers. In fact, numerous homeowners are opting to build log homes now while land costs have moderated and interest rates remain low. Log home owners comprise a niche market often willing to pay for specialized expert services like those taught in Sashco's Zero Failures and Insector Detector training courses.
Sashco's new Insector Detector training is a two-day course that introduces students to the lucrative log home thermography market. Sashco Project Manager, Tari Warwick, explains that, "Log home owners often suffer extreme frustration over the discomfort caused by both the penetration of bugs and unwanted air into their homes. These homeowners recognize the value of, and are willing to pay for, an expert who can identify those areas that allow bugs and air to enter. Sashco's Insector Detector training provides contractors with the tools and knowledge they need to employ thermography as a means of relieving homeowner frustration by identifying entry points for bugs and air that can provide considerable energy savings, as well as added comfort."
Sashco's newly enhanced Zero Failures Seminar is the prerequisite to Insector Detector training. Zero Failures is an intensive two-day technical training course that dedicates equal amounts of time to both classroom learning, and hands-on training from some of the industry's top log maintenance experts. Sashco's Zero Failures Seminar teaches best practices for log home preparation, care and maintenance, and product application, as well as teaching the differences between wood and logs and how best to maintain them.
A recent graduate of Sashco's Zero Failures course reported back three short months after completing his training explaining that, "My Zero Failures training has made me more money than any other schooling I've ever done, including high school and college."
Both Zero Failure's and Insector Detector training courses are scheduled for October, January, and March, 2008. For more information or for specific course dates, visit Sashco's Web site at http://www.sashco.com/Log/ID_Seminar_Information.aspx or call 1-800-767-5656.
Photo caption: Thermography image reveals areas in green and blue where air is entering the home. These are areas that to the naked eye look tight and are only revealed by the thermographic imaging technology. Thermographic photo results guide homeowners and contractors to the areas of the home that need to be resealed for optimum comfort and efficiency.
About Sashco Sealants:
Since 1936, Sashco Sealants has been manufacturing high performance caulks and sealants for specific home improvement on traditional built to log homes from the chimney to foundation. Sashco's line of home improvement products includes: Lexel – the first clear caulk in the clear tube; Big Stretch – for doors, windows and siding - won't crack it just stretches; Mor-Flexx – textured mortar and stucco repair; Through the Roof – clear, flexible, permanent roof repair. Sashco's log home products includes a complete line of ecologically safe, compatible products for finishing, maintenance, and restoration, including stains, caulking, chinking, borates and cleaning products, as well as finishing equipment. For more, please visit http://www.sashco.com.
Contact:
Sarah Shaffer, Public Relations Coordinator, Sashco Sealants
303-286-7271
sshaffer@sashco.com
###