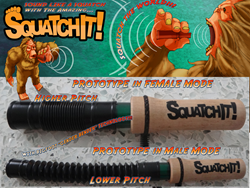 We are so excited to have Craig introducing SquatchIt to the some of the most celebrated and influential people in the Bigfoot community. Having Craig as the first ambassador of SquatchIt is a dream come true
Arlington, TX (PRWEB) June 20, 2013
Christopher Oliver hand delivered one of the two SquatchIt prototypes that exist in the world to famed creator of cryptomundo.com, Craig Woolheater on Wednesday June 19, 2013 in Arlington, Texas. Woolheater will be attending both the Hopssquatch event as well as the Falcon Project Conference in Oregon June 22-23, 2013. Craig will be introducing SquatchIt, the world's first Bigfoot Call novelty noisemaker device, to Bigfoot luminaries including Bob Gimlin, Dr. Jeff Meldrum and Cliff Barackman of Finding Bigfoot fame.
"We are so excited to have Craig introducing SquatchIt to the some of the most celebrated and influential people in the Bigfoot community. Having Craig as the first ambassador of SquatchIt is a dream come true," says James Villepigue, co-creator of the SquatchIt Bigfoot call.
Craig Woolheater is the creator of CryptoMundo.com, the online web portal dedicated to Cryptozoology, that serves as the epicenter of the online Bigfoot community with articles detailing adventures, treks, theories, and wisdom of some of the most respected leaders in the field.
SquatchIt is not only the world's first novelty Bigfoot call aka a "predator call" product, it's also a new lifestyle brand phrase that allows people to shrug off situations that really aren't worth getting upset over; i.e., when you're in a jam, just SquatchIt! For more information about SquatchIt visit their website at squatchit.com or email contact(at)squatchit(dot)com.
The Falcon Project Conference will take place at the Bossanova Ballroom 722 East Burnside in Portland, OR on June 22, 2013.
The June 23, 2013 Hopssquatch event will take place from 12:30PM to 4PM on Sunday, June 23, 2013, at The Lucky Labrador Beer Hall 1945 Northwest Quimby Street 1945 Northwest Quimby Street and will feature Dr. Jeff Meldrum & William Barnes of the Falcon Project.