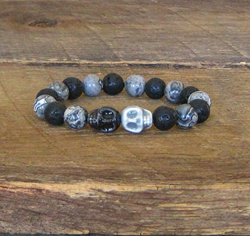 These Gasparilla-worthy bracelets combine the fun of skulls with the beauty and symbolism of natural stones.
(PRWEB) April 08, 2015
SassyBelleWares (http://www.SassyBelleWares.com), in association with The Artisan Group®, will have its plunder-worthy Stormy Night Skull Bracelet included in celebrity swag bags at GBK's 2015 MTV Movie Awards Weekend Gift Lounge. The Gift Lounge will take place April 10-11, 2015 at an exclusive location in Hollywood, California.
Composed of black and grey porcelain skulls, black lava rock and scenery jasper, the Stormy Night Skull Bracelet has an edgy, rocker vibe. It stretches to fit most wrists and can be worn alone or stacked. It also brings the healing properties and symbolism of natural stones to the wearer. Lava rock is said to provide stability in times of change, dissipating anger and providing guidance and understanding. Scenery jasper provides sustenance in times of stress, enhances tranquility and wholeness and absorbs negative energy.
"As a Tampa native, my Stormy Night Skull Bracelet reflects my love for skulls, Gasparilla and all things pirate," says SassyBelleWares designer/owner Stephanie Hovsepian. "These bracelets combine the fun of skulls with the beauty of natural stones. They are super comfortable to wear and look great on both women and men."
Gift bag recipients will find their Stormy Night Skull Bracelet packaged in a Kraft brown cardstock mason jar, tucked inside a cotton drawstring bag with the SassyBelleWares logo. The bracelets are available to purchase at SassyBelleWares.com and retail for $28.00.
SassyBelleWares jewelry is a popular choice for television wardrobe stylists. The company's Hammered Double Circle Bracelet was worn by Nina Dobrev (as Elena Gilbert) on Episode 601 of The Vampire Diaries. Its Black Lava Rock Bracelet was donned by Bonnie Bedelia (as Camille Braverman) on episode 608 of Parenthood. Deborah Lacy (as Madame Van Horn) showed off the company's Sunflower Stretch Bracelet on episode 322 of Hart of Dixie. On episode 1614 of Law and Order: SVU, Susannah Flood (as Sarah Keller) wore the Winged Flying Heart Bracelet.
The company has gifted celebrities at GBK's Gift Lounges for the 2015 Golden Globe Awards and 2014 New York Fashion Week. Both the New Jersey Daily Record and Atlanta and Company have covered the company's growth as an indie jewelry company.
New for 2015 is men's jewelry collection RuggedBeauWares. "I've always designed and sold men's jewelry but the popularity of these pieces have increased so much that the time seemed right to create a line. These pieces are sold right alongside the SassyBelleWares collection, so men shopping for themselves can shop for the women in their lives and vice versa."
To learn more about SassyBelleWares, contact Stephanie Hovsepian by email using the Contact button on this press release. Become a fan on Facebook (@SassyBelleWarewsonFB) and follow the company on Twitter (@SassyBelleWares) and Instagram (@sassybellewares). Shop SassyBelleWares at SassyBelleWares.com, Bourbon and Boots.com, CountryOutfitters.com, The Brown Dog in Nashville, Tennessee and Henry B. Plant Museum Shop in Tampa, Florida.
About SassyBelleWares
SassyBelleWares (SassyBelleWares.com) is elevating the SASS FACTOR for women of all ages with jewelry and accessories that blend contemporary materials, semi-precious gemstones and whimsical found elements. The result is original designs that express a variety of moods and work for all kinds of occasions. SassyBelleWares is also the home of RuggedBeauWares, a line of jewelry for guys who rock their fashion in cool, comfortable style.
SassyBelleWares jewelry has been worn on The Vampire Diaries, Hart of Dixie, Law and Order SVU and Parenthood, and has been gifted at GBK's MTV Movie Awards, New York Fashion Week and Golden Globes Gift Lounges. SassyBelleWares bracelets are in the hands of Gina Rodriguez, Viola Davis, Dot Marie Jones, Giuliana Rancic and Stephanie Drapeau among many other Hollywood celebrities.