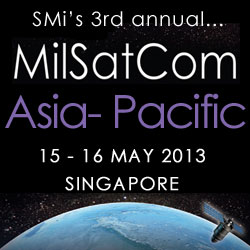 London (PRWEB UK) 7 May 2013
There is less than one week until MilSatCom Asia 2013 – Asia's largest gathering of high level government, military and industry SatCom experts.
Following on from the overwhelming success of SMi Group's Global MilSatCom - the world's leading military satellite communications conference & exhibition, this event is the 3rd annual event in the region and will tackle the latest security and communications challenges faced by one of the world's most forward-moving markets.
SatCom experts confirmed to attend from across the globe include countries such as: Australia, USA, Singapore, UK, India, Malaysia, Philippines, Netherlands, Japan, Nigeria, Pakistan, Russia, UAE plus many more.
The SatCom market within the Asia-Pacific region is rapidly expanding, with large investments from India, Pakistan and China; countries are now increasing their presence in SatCom capabilities. Attendees will be able to hear from over 16 speaker presentations, high level case studies, interactive panel discussions and numerous networking opportunities with senior SATCOM professionals from across the world, over the course of two days. In addition do not miss the networking drinks reception hosted by Astrium on the 15th May 2013.
The exceptional speaker line-up includes:
Captain Vaughn Rixon, CSC, Royal Australian Navy
Colonel Mark Patterson, J6 Division Chief, USPACOM
Commander Andy Rayner, Royal Navy, SO1 Network Services, Joint Forces Command Cap C4ISR, UK MOD
Lieutenant Colonel James Dryburgh, JS01 CIS J6, NZDF
Click here to view the full speaker line-up
For companies wishing to attend visit - http://www.milsatcomasia.com
Alternatively contact James Hitchen on: +44 0-207-827-6054 or email jhitchen(at)smi-online(dot)co(dot)uk
For sponsorship enquiries contact Alia Malick on: +44 0-207-827-6168 or email amalick(at)smi-online(dot)co(dot)uk
---------ENDS-------
About SMi Group
The SMi Group is a highly professional, independent and global event-production company that specializes in Business-to-Business Conferences, Workshops and Masterclasses, and online Communities. The SMi Group creates and delivers events in the Defence, Security, Energy, Utilities, Finance and Pharmaceutical industries. For more information, please visit http://www.smi-online.co.uk