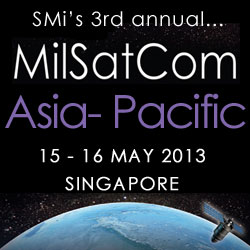 London, UK (PRWEB UK) 30 April 2013
30th April 2013: Momentum is fast building for SMi Group's 3rd annual MilSatCom Asia conference and exhibition – Asia's largest gathering of high level government, military and industry SatCom experts.
With SATCOM playing a larger role in military and government operations and companies investing further into new developments within the Asia-Pacific region, this is your chance to become fully up-to-date with current MilSatCom operations and emerging programmes.
Hear industry updates from a line-up of key military speakers and leading SatCom experts, and do not miss the networking drinks reception hosted by Astrium on the 15th May 2013. With satellite communications increasing in the region, MilSatCom Asia-Pacific will allow fantastic networking opportunities with senior SATCOM professionals from across the region and internationally.
The exceptional speaker line-up includes:
Commodore Roger Boyce, Director General ICT Policy and Plans, Department of Defence, Australia
Colonel Mark Patterson, J6 Division Chief, USPACOM
Commander Andy Rayner Royal Navy, SO1 Network Services, Joint Forces Command Cap C4ISR, UK MOD
Lieutenant Colonel James Dryburgh, JS01 CIS J6, NZDF
Lieutenant Commander Salvador Sambalilo, Naval Communications Electronics and Information Systems Center, Philippine Navy
Dr Pham Anh Tuan, Director, Vietnam National Satellite Centre
Inspector General of Police Ghulam Shabir Sheikh, Counter Terror Wing, Pakistan Police Force
For companies wishing to attend, visit http://www.milsatcomasia.com to register online.
Alternatively, contact James Hitchen on: +44 (0) 207 827 6054 or email jhitchen[at]smi-online[aot]co[dot]uk.
For sponsorship enquiries, contact Alia Malick on: +44 (0) 207 827 6168 or email amalick[at]smi-online[dot]co[dot]uk.