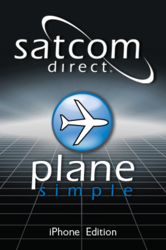 Whether for the flight crew, maintenance personnel, or passengers, Satcom Direct has an app for that.
Satellite Beach, Fla. (PRWEB) October 10, 2011
Satcom Direct, provider of satellite voice, fax, datalink and Internet communications solutions, has launched mobile application versions of five of their services, AeroV®, FlightDeck Freedom® (FDF), Plane Simple®, SkyTicket, and MATA to help pilots, flight crew, and passengers get connected and receive real-time data of activity on their aircraft.
Satcom Direct mobile apps are currently available for all Apple devices, including the iPhone and iPad, and can be downloaded from the iTunes store. Some applications require a subscription and others require existing service through Satcom Direct before you can use the application. All of the apps are free to download except AeroV.
The mobile applications available include:
AeroV® – In-flight Softphone
Voice over Internet Protocol (VoIP) technology works over Inmarsat, Iridium, and Yonder networks; allows customers to securely connect and communicate while in flight
FDF Mobile – Tablet-based Flight Deck Data
Access flight deck services: Critical Aviation Weather, Flight Planning, Pre-Departure Clearance, Oceanic Clearance, Digital ATIS, and Position Reports
Plane Simple® Mobile – Account Management
Access active services, usage records, aircraft and configuration information, and most recent flight path
SkyTicket – Personal Broadband Access
Allows individual passengers to connect and pay for the data they use in-flight
MATA – Mobile Access Troubleshooting Application
Use for troubleshooting satcom systems on-board aircraft to assess if configured correctly
"Mobile Applications are how we connect in our everyday lives – we are now taking that functionality to aviation. Whether for the flight crew, maintenance personnel, or passengers, Satcom Direct has an app for that," said Jim Jensen, founder and owner of Satcom Direct. "These apps deliver mobile access to various products and services that Satcom Direct already offers its customers, giving them the flexibility to use their own devices to see usage statistics in flight."
Satcom Direct plans to develop applications for additional mobile platforms in the near future.
The mobile apps will be on display in Satcom Direct's booth (#N5111) at the National Business Aviation Association (NBAA) Annual Meeting & Convention in Las Vegas, Nevada, October 10-12 at the Las Vegas Convention Center.
About Satcom Direct
Founded in 1997, Satcom Direct is the leading innovator of satellite voice, fax, and broadband data service solutions for business and general aviation, military, government, emergency response, media, and other industries that demand secure and reliable global communications. Its primary product, Global One Number®, is an advanced connection service for aeronautical, maritime, and land mobile applications that makes satellite communications as reliable and simple to use as ground-based telephones. Satcom Direct's extensive product portfolio also includes AeroV®, Aero X®, FlightDeck Freedom® (FDF), One View™, Plane Simple®, Satcom OnSite™, and SD Flight Tracker; Inmarsat's Classic Voice, Swift 64, and SwiftBroadband; Iridium Aero Services; and ViaSat Yonder® Mobile Broadband. For more information regarding Satcom Direct, visit http://www.satcomdirect.com, e-mail sales(at)satcomdirect(dot)com, or call +1.321.777.3000. To view Satcom Direct's portable satellite communication equipment and services, including satellite phones and BGAN units, visit http://www.satcomstore.com, e-mail mobileops(at)satcomdirect(dot)com, or call +1.321.777.0771.
###