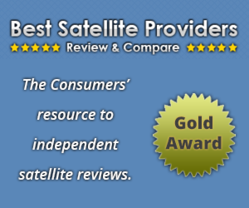 Compare the leading satellite Internet providers online at BestSatelliteProviders.com.
Washington, D.C. (PRWEB) May 28, 2013
BestSatelliteProviders.com, the independent satellite TV and Internet reviews site recently finished conducting their reviews of the best satellite Internet providers in the nation. The BestSatelliteProviders.com staff looks at several factors when ranking satellite Internet providers. This includes their customer service record, available packages, monthly cost and download and upload speeds to name a few.
The most important decision a consumer has when selecting a satellite Internet service is choosing a plan that offers speeds and bandwidth conducive to their Internet usage. The download speeds are more than adequate for any user even on the lowest plans, however the monthly allowed bandwidth should be looked at a little closer. To put this in easy to understand terms a 20GB per month bandwidth plan is the equivalent of downloading 5,000 songs in MP3 format. The majority of consumers will not come close to ever reaching these limits.
According to Adam Matthews, from BestSatelliteProviders.com, "Satellite Internet has drastically improved over the years. Now satellite providers are able to product speeds matching DSL and cable providers. Residents living in areas where the Internet options are few, now have a great alternative to high-speed Internet services with satellite."
The best satellite Internet provider in 2013 is HughesNet. HughesNet provides their customers with free standard installation of their latest Gen4 product that is capable of producing speeds upwards of 15Mbps. To view the plans and see how they compare to the competition, please visit BestSatelliteProviders.com online at:
http://www.bestsatelliteproviders.com/satellite-internet-providers/
About BestSatelliteProviders.com
BestSatelliteProviders.com is the go to satellite Internet reviews website that offer independent and unbiased reviews of the leading satellite TV and satellite Internet providers. The plans and packages along with the features and options of each satellite provider are outlined and compared on the BestSatelliteProviders.com website. Consumers who are in the market for satellite rely on the reviews at BestSatelliteProviders.com.