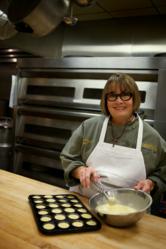 More than cooking and eating, sitting down for dinner is a time to catch up with loved ones and cherish the company of family.
Birmingham, Ala. (PRWEB) April 27, 2012
"I'll never forget my grandma's boiled custard with orange zest," said chef and restauranteur Becky Satterfield as she reminisced over Sunday afternoons when she was a child. "She had them ready for Sunday dinner and I would be so excited I couldn't help but open the fridge over and over to have a peek. I can still see them poured into their bright orange glasses, waiting in rows like little soldiers!"
Satterfield, whose eponymous Cahaba Heights restaurant turned seven years old this year, grew up helping her mother and grandmother in the kitchen, learning as a little girl that meals are an essential part of family life. Her grandmother taught her that good meals start before the kitchen, in gardens and fields, carefully tended to by loving stewards of the land. Out in the country, fresh ingredients were all around: fruit from the orchards and meat and dairy from the cows.
"Everything was made from scratch!" Becky exclaimed while recalling her grandmother's penchant for cooking from memory without a recipe in sight.
Her mother and grandmother taught her early on that mealtime was an occasion for togetherness and bonding. More than cooking and eating, sitting down for dinner is a time to catch up with loved ones and cherish the company of family.
By the time she was 11 years old, Satterfield had learned how to prepare an entire meal on her own. Her mother, who worked at the community bank at the time, put her in charge of Friday night supper. Becky fondly recounts those nights she welcomed her mother home from work with the savory scents of pot roast, rice, cornbread and greens, wafting through the air. (Lemon icebox pie awaited the family for dessert.)
Memories like these are the foundation of Satterfield's Restaurant: bringing together fine dining, wholesome fixings with a new twist, and the comfort of the family dinner table.
This year, the restaurant will host a Mother's Day brunch Sunday, May 13 from 11 a.m. – 2:30 p.m., offering a collection of dishes inspired by its strong family roots. Fresh, local produce, meats and seafood adorn a menu perfectly suited for families seeking to honor loved ones and connect over cuisine.
For more information about Satterfield's or its upcoming Mother's Day Brunch, visit http://www.satterfieldsrestaurant.com. To make reservations, please call 205-969-9690.
About Satterfield's Restaurant
Located in the heart of Cahaba Heights, Satterfield's Restaurant is one of Birmingham finest culinary experiences. We offer the freshest and best ingredients, a friendly and knowledgeable staff, and elegant ambiance. An evening at Satterfield's takes you to that place where the family dinner table and fine dining meet. Satterfield's specializes in a global dining with a local (Southern!) twist. While the menu changes daily, guests will always find Old-World flavors married with New-World sensibilities. Chef Haller Magee's favorites include steaks, fresh seafood, veal, rabbit, and quail -- each with a noticeable French, Italian, Spanish or Mediterranean influences.