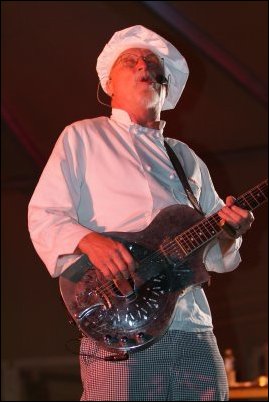 I Will Play for Gumbo
Monticello, FL (PRWEB) July 27, 2006
The Sauce Boss has taken his music and his recipes, along with a culinary travelogue of great restaurants, and stirred them into a brand new podcast available on iTunes. Every Sauce Boss Podcast has a heaping helping of down-home blues, cooking, and attitude.
For 16 years, the Sauce Boss has combined music and food into a whole new genre, mixing his own original blues into a huge pot of gumbo, and feeding over 135,000 people for free. For the last three years, the Sauce Boss has also taken his musical gumbo show to homeless shelters all over the country along with a message of hope and sharing for the entire community. (Podcast number three will feature a live performance from a homeless shelter in Washington D.C.).
It all began when Florida bluesician, Bill Wharton, made a big batch of hot sauce in his kitchen that was so good that all his friends ate it up. When he made more, they ate that up too. Before long he was known as the Sauce Boss, hawking his Liquid Summer Hot Sauce at the shows. When he poured it into a pot of gumbo, it took off.
Once a best kept secret, the word is out! Jimmy Buffett sang about the Sauce Boss in his "I Will Play for Gumbo" song, and now Parrotheads are "phlocking" from all over the country to see the Sauce Boss live. The Sauce Boss has been featured in Living Blues magazine as well as GQ, and Gourmet magazine. He has appeared on the Food network's Extreme Cuisine, CNN, Extra, CBS's The Early Show and NPR's Morning Edition. The sauceboss.com website is high tech on a long dirt road: down-home and state-of-the-art at the same time. It gets over 1 million hits a year.
He's the inventor of Gastronomic Boogie-woogie.
Like a cross between Justin Wilson and Robert Johnson,
He sings the blues
He cooks the gumbo
He plays the guitar
He writes the tunes
He feeds the masses
He makes his very own hot sauce
And that's why they call him …
The sauce boss!
For more information visit:
http://www.sauceboss.com
info @ sauceboss.com
Bill Wharton 850-997-4359
Photo by Joe Riebling
###