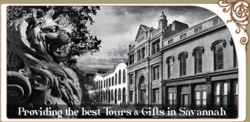 "We expected a ghost story after the lengthy investigation, but never one hundred ghost stories!" he laughed.
Savannah, GA (PRWEB) September 26, 2011
Restored to the 1860's era by owner Michael Preston, Circa Savannah is a specialty shop featuring the city's best tours, tasteful gifts, arts and antiques. Following its renovation, Mr. Preston noticed strange activities soon after the store's opening. "On several occasions neighbors asked if we were hosting evening parties because they heard people walking about through the night; the store was empty and the alarms set. As well, items were moved or misplaced, doors and windows mysteriously opened or closed, gas lamps would not remain lit, and a desk stapler went into a merry dance thoroughly alarming a customer and clerk." At that point, he contacted the paranormal experts to investigate. "We expected a ghost story after the lengthy investigation, but never one hundred ghost stories!" he laughed.
Situated atop 20,000 year-old graves of a race that showed signs of cannibalism, the property became home to Georgia colonists who lived with daily hardships, later primitively quartered slaves awaiting auction in the basement, bivouacked military personnel during the Civil War, and saw fortunes lost during the cotton economy's collapse. Among the apparitions that the paranormal researchers discovered, most astonishing was the recording of EVP (Electronic Voice Phenomenon) pointing to French speaking inhabitants along with those of unknown dialects. The team experienced spirits of eighteenth century travelers, prohibition era smugglers, and a Victorian lamplighter maintaining the outside gas lanterns. There were so many spirits and activities occurring during the investigation that researchers had to leave the premises multiple times.
Circa Savannah provides the best selection of tours in the city, and we additionally offer a delightful shopping experience in an elegant Victorian setting. Our goal is to provide an exceptional visit for everyone. Whether the customer is looking for History Tours, Ghost Tours, or a variety of Specialty Tours, we offer them all via walking, trolley, or horse & carriage." To inquire about custom tour packages or the many unique Savannah gifts available, call them directly at (912) 233-3667, or visiting us online at http://www.CircaSavannah.com.
###