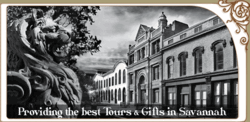 The VIP Tour Membership is offered to everyone from individuals to corporate event planners, and has no limit on the number of tickets that can be purchased at substantial discounts for the entire calendar year of 2012.
Savannah, GA (PRWEB) November 16, 2011
The VIP Tour Membership offers individuals, families, conventions, tour groups, churches, and all others the opportunity to get the best savings on a choice of tours while visiting Savannah. Whether their interest is historic, paranormal, or a variety of Specialty Tours, Circa Savannah VIP Membership will save your pocket book while having providing an exceptional tour experience. "We want our customers to have the very best experience when they come to Savannah, and our exclusive VIP Membership is a great way to ensure a fantastic time on a lower budget." stated Mr. Preston.
Circa Savannah's VIP Tour Membership also offer a variety of first class membership privileges that makes everyone's visit to Savannah feel like royalty. The membership offers merchandise discounts, free hotel delivery on souvenirs and gifts, custom tour times for all groups, free local area maps, and the best tour starting location in the city.
"Our customers love the benefits and savings of the new VIP Tour Membership. It maximizes the Savannah vacation while offering the best discounts in the city. This is why is has become a huge hit!" shared Mr. Preston. Whether the customer is looking for a Walking Tours, Trolley Tours, or Horse & Carriage Tours, Circa Savannah offers them all. To inquire more about the VIP Tour Membership, call them directly at (912) 233-3667, or visiting them online at http://www.CircaSavannah.com.
###