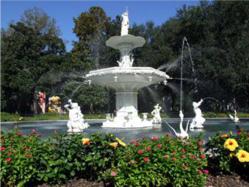 "Our customers love the Free Map and Savannah Hot Sheet. It maximizes the Savannah vacation, and that is why it has become a huge hit!" shared Preston.
Savannah, Georgia (Vocus/PRWEB) March 08, 2011
C Savannah, the city's premier provider of tours, is now giving away a free "Savannah Hot Sheet" along with a free "Local & Area Map" with every online tour purchase. The Savannah Hot Sheet, exclusive for C Savannah's customers, lists the best places to eat, drink, and play in Savannah. It also includes the "must-know" information for the traveling family such as the locations of restrooms, drug stores, elevators and more. In addition to this exclusive Hot Sheet, everyone who purchases tickets on line will receive a free Local & Area map. Both items are now provided to all of our online customers when they arrive for their tours. "We want our customers to have the very best experience when they come to Savannah, and this exclusive offer from C Savannah is a great way to ensure a fantastic time." said owner Michael Preston.
The Savannah Hot Sheet is divided into three essential categories. The first category is a local's view on the Best Places to Eat and Drink in Savannah. Whether you are looking for a great steak or the best ice cream, it's all available in the food section. The second category contains the best places to See, Touch & Play in Savannah. There are seventeen diverse sub-categories in this section; all are geared to ensure that no one misses out on the best of what Savannah offers. Finally, the third section is a list of the basic essentials. When you really need to use the restroom or must have a prescription filled, you will be glad you have our Hot Sheet in hand. In addition to the categories, the Hot Sheet also provides the name of the business or location you are looking for, and its closest intersection. The Hot Sheet along with C Savannah's Free Map makes finding your favorite Savannah destination easier than ever!
With our location as the "Times Square" of Savannah, we are often the tourist's Concierge for the city. Whether the visitor needs directions to a hotel, the finest grits in town, or the best tours in Savannah, they start their vacation adventures at C Savannah. It was therefore clear that we needed to create this free offer for our online customers. Customer service is our number one priority and we want everyone to have a great Savannah experience!
"Our customers love the Free Map and Savannah Hot Sheet. It maximizes the Savannah vacation, and that is why it has become a huge hit!" shared Preston. With the best selection of tours in Savannah, and a wonderful Victorian setting, our goal is to provide an exceptional experience for everyone. Whether the customer is looking for History Tours, Ghost Tours, or a variety of Specialty Tours, we offer them all via walking, trolley, or horse & carriage." Learn more about C Savannah by visiting the store online at http://www.Csavannah.com. To inquire about custom tour packages or the many unique Savannah gifts available, call them directly at (912) 233-3667. The e-mail address is Info(at)CSavannah(dot)com.
# # #