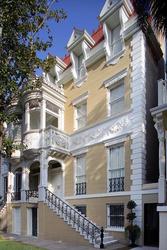 I have traveled all over the world and have never stayed in such a lavish property. The master suite was simply over the top. I will never stay in a hotel again!
Savannah, Ga. (PRWEB) September 8, 2008
Luxury Living Savannah's Wedding Cake Mansion, one of Savannah's most photographed landmark mansions, has undergone a multi-million dollar historically correct restoration while adding all the luxury accoutrements expected by the discerning traveler.
The 1869 2nd Empire Baroque home was named the Wedding Cake Mansion by the long time residents of Savannah because the elaborate white bay window with ornate stained glass and white ornamental iron work resembles a sumptuous Wedding Cake. The influence of the French archetecture is carried throughout with 19th century chrystal chandeliers, European antiques, art and decor. The 4 story mansion has an elevator, eleven flat screen TVs and two Bose home theatre systems. The nine bathrooms are the definition of luxury showcasing marble, onyx, 6 foot air tubs, two person showers, body sprays, imported stained glass windows, French fixtures, Italian mosaics, and hand painted murals -- too much to list. For the culinary expert, the fully outfitted gourmet kitchens have custom designed cabinetry, top of the line commercial appliances, wine coolers and granite counter tops. If you prefer not to cook, you can enjoy a gourmet meal prepared by one of the mansion's private chefs. Guests can also have spa services in the privacy of the mansion. The location on Monterey Square is walking distance to all attractions, restaurants, museums, and boutique shops. A rental car is not necessary.
Top travel agents that deal exclusively in luxury travel and wealthy clients are recommending luxury vacation homes such as Luxury Living Savannah's Wedding Cake Mansion over the typical cookie-cutter chain hotels because the experience is so unique plus the space and comfort is superior. "My travel agent pushed me to rent the Wedding Cake Mansion over booking several suites at a Savannah hotel", says Patricia Kauppi, a software executive. "I have traveled all over the world and have never stayed in such a lavish property. The master suite was simply over the top. I will never stay in a hotel again!"
Savannah is being touted as one of the country's hot new travel destinations for sophisticated travelers because it combines the charm and ambiance of the Old South with the culture and sizzle of New York. Janet Woolley a Chicago insurance executive said, "I hosted my 50th birthday weekend at the Wedding Cake Mansion and was blown away by the grandeur and attention to detail. It was like stepping back in time and experiencing the tasteful elegance of travel that has long been forgotten while enjoying every amenity of the Ritz Carlton at a fraction of the cost. It simply could not have been any better."
In addition to providing luxury Savannah accommodations, the historic elegance and size of The Wedding Cake Mansion serves as an intimate, unique backdrop for special events, such as weddings, corporate events, family gatherings, and celebrations of all kinds. "Girl get-a-ways, and wedding parties are the fastest growing part of our business," says Tammy Jo Long, President of Luxury Living Savannah, "The Savannah destination wedding business is booming. Brides dream of getting married in an old southern mansion that's dripping with history and charm. We're booking wedding parties as far out as 2010. There is something about the mystique of the south that draws women to Savannah."
For additional pictures and information about the Wedding Cake Mansion and all of Luxury Living Savannah's Vacation Rentals, please visit http://www.LuxuryLivingSavannah.com or call 866.886.0809. Also offered are luxury beachfront vacation rentals on nearby Tybee Island, http://www.LuxuryLivingTybee.com or call 866.886.0809.
About Luxury Living Savannah:
Founded in 2003, Luxury Living Savannah is not just a premier luxury accommodations company. They are passionate about saving Savannah's resplendent old homes from dilapidation and condemnation. They select aging houses that have been neglected and fallen into severe disrepair and meticulously restore them back to the shining jewels of Savannah as they were in the 19th century preserving Savannah's greatest treasures for the enjoyment of travelers today and future generations. Luxury Living Savannah has four historic homes and four beach houses available for vacations, corporate travel, and special events. Luxury Living Savannah has a growing list of happy VIP customers, Movie Stars, Heads of State, European Royalty, and Billionaire CEOs, that appreciate the blending of amenities offered at the world's finest hotels with the charm and comfort of a luxurious historic home creating a unique and genteel atmosphere of the old south.
Contact:
Tammy Jo Long, President and Founder
Luxury Living Savannah
866.886.0809
http://www.luxurylivingsavannah.com
# # #