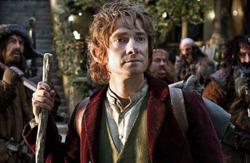 I just pick up a package or two while I am doing my normal Costco run. Saving money is almost always worth it, and definitely worth it in this instance.
EL SEGUNDO, CALIFORNIA (PRWEB) December 15, 2012
As moviegoers flock to their local theaters this weekend in order to see hot new releases like The Hobbit, many will feel the sting of rising ticket prices. In fact, the National Association of Theatre Owners recently reported that the average cost of a movie ticket in the second quarter of 2012 was $8.12, an all-time high. In order to help consumers find relief from the rising cost of entertainment, Go Banking Rates managing editor, Casey Bond, investigated the best ways to save money at the theater and found buying tickets at Costco to come out on top.
Ms. Bond explains warehouse retailer Costco sells bulk discount movie tickets (typically in four-packs), which allow shoppers to enjoy a couple of dollars off the price of each theater entry. Exact deals and quantities vary by location, but Costco usually sells packs of discounted movie tickets for AMC, Regal and Cinemark theaters.
She examined online bulk ticket prices offered by Costco and compared them to local theater locations around the Go Banking Rates offices in El Segundo, California, and found the total discount per ticket to be a generous $3.20 for AMC and Regal, though just $1.50 for Cinemark.
However, some consumers question whether a discount of $2-$3 per ticket is really worth the Costco membership fee and notoriously crowded parking lots and lines.
Self-proclaimed Costco enthusiast, Joel Gross, admitted to Go Banking Rates that even though the prices on Costco tickets have gone up recently, he still sees them as a deal: "It works out to around $8.50 a movie, that I can go see anytime, even opening day. A normal ticket at the theater costs $11.50, so it's practically a no-brainer."
However, the key is for current members to make buying discounted movie tickets part of their regular Costco routine, rather than going out of their way to purchase them. "I just pick up a package or two while I am doing my normal Costco run," said Gross. "Saving money is almost always worth it, and definitely worth it in this instance."
However, some consumers may be turned off by the restrictions associated with Costco movie tickets. First, only the handful of theaters mentioned above provide tickets to Costco, so moviegoers may have to compromise on their theaters of choice in order to enjoy the discount. Additionally, releases in IMAX or 3D, as well as special showings and premieres, will require an additional surcharge. The same is true for New York residents, according to the Costco website.
Click here for the full report.
About Go Banking Rates
http://www.GoBankingRates.com is a national website dedicated to connecting readers with the best interest rates on financial services nationwide, as well as informative personal finance content, news and tools. Go Banking Rates collects interest rate information from more than 4,000 U.S. banks and credit unions, making it the only online rates aggregator with the ability to provide the most comprehensive and authentic local interest rate information.
Additionally, Go Banking Rates partners with a number of major media outlets such as Business Insider and US News & World Report to provide compelling and edifying personal finance content, and its expert editors have been featured and quoted on several premier finance websites like Yahoo! Finance, Forbes, The Street, Huffington Post and more.
GoBankingRates.com belongs to a network of more than 1500 finance websites, including GoInsuranceRates.com and GoFreeCredit.com. These sites receive more than 2 million visits each month.
For questions or comments, please contact:
Jaime Catmull, Director of Public Relations
http://www.GoBankingRates.com
JaimeC(at)GoBankingRates(dot)com
310.297.9233 x261
###