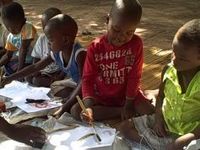 The HEART program gives them a voice to work through their emotional distress and help them cope creatively
Westport, CT (Vocus) June 17, 2010
The global humanitarian organization Save the Children has been awarded $5.9 million to create an endowment for its "Healing and Education through Art," or HEART, program. The $5.9 million award comes from an outside legal settlement.
Using interest from the endowment, along with additional funding from the Charles Engelhard Foundation and Haiti relief efforts, Save the Children will expand its HEART program to Haiti, Malawi and Nepal in 2010.
"Save the Children is very grateful for this award, which will allow us to set up an endowment for our global arts education and therapy program for children facing very challenging circumstances," said Heather Simpson, senior director for Education and Child Development of Save the Children.
"Some children are so young, they cannot yet articulate what they have experienced or are feeling. The HEART program gives them a voice to work through their emotional distress and help them cope creatively. This endowment will allow us to expand our HEART program globally to reach even more vulnerable children," added Simpson.
Through support from the Charles Engelhard Foundation, HEART was piloted in Mozambique and West Bank in 2006, and in El Salvador in 2008.
Using Arts to Promote Child Development
Save the Children's HEART program uses the arts to promote children's development and well-being by providing them with a creative means of expression. The program is targeted to young children living in communities affected by conflict, violence, HIV/AIDS or extreme poverty. Children learn how to use the arts to give voice to their emotions about difficult events in their everyday lives.
"Parents and teachers in our pilot programs have told us they have seen remarkable changes in how their children deal with their emotions, such as grief and fear, since we began HEART," added Simpson. "And, the children are so proud of their creations. Our preschool walls in Mozambique are now crowded with colorful drawings and paintings, giving children an opportunity for expression."
By bringing this innovative program to local partners, Save the Children seeks to integrate HEART into its emergency response work, as well as its education and early childhood development programs so that the arts program can continue for years to come.
The endowment will provide ongoing funding to expand HEART globally, ensuring that art is an enduring element of Save the Children's support to children. As part of the award, Save the Children has agreed to raise an additional $5 million over a six year period to create a total endowment for the HEART program of $10.9 million.
Read blog entries by two preschool teachers, Veronica and Monica, about how HEART is helping their students in Mozambique.
Save the Children is the leading, independent organization that creates lasting change for children in need in the United States and 120 countries around the world. Follow us on Twitter and Facebook.
###