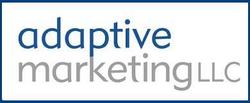 keep up with the Joneses
Norwalk, CT (PRWEB) June 27, 2008
Adaptive Marketing LLC, an industry leader in membership programs, knows that managing the household budget wisely is a big challenge for many. The easy access to store credit cards, luring advertising strategies, the need to "keep up with the Joneses," and the continuous sales in all types of stores, among other factors, make it hard for consumers to resist temptation. Some end up spending more than they were supposed to -- and many even more than they can afford.
Going hand-in-hand with an effective household budget is saving money on all the things that are indeed necessary, notes Adaptive Marketing. Think of it as many teenagers do. They work a couple hours a week to save all the money they need to buy a car, and the goal is so clear that many don't steer away from it. Making money go as far as it can is a skill that can be acquired with practice and awareness of one's own spending habits.
A good way to start stretching the dollars is to take an inventory of all household needs, to see where money can be saved. Begin with the big items first (a car, appliances, etc.), and move down the scale to other, less expensive but necessary things, such as groceries, clothes, entertainment, etc. After the initial step, be sure to use these seven useful budgeting tips put together by Adaptive Marketing:
-- Distinguish between wants and needs. Needs are things necessary to sustain the household -- shelter, food, transportation, and clothing. Wants are things that improve quality of life -- a sports car, designer clothes, or dinner at a fancy restaurant.
-- Try to use credit cards as little as possible, and don't let credit card debt accumulate. Set aside a reasonable amount, keep it in cash, and use it throughout the month.
-- Manage debt efficiently. Create a payment plan, and pay loans or credit cards that have the highest interest rates first.
-- Try to use public transportation whenever possible. Save on gas and car maintenance.
-- Share Internet costs. Especially when living in an apartment, it's easy to work with neighbors to share a wireless plan.
-- Be careful with food expenditures. Eating is expensive, but doing so economically can help save lots of money. Give up snacks; stop eating out so often; learn to cook new things; when cooking, prepare an extra portion to store for the next day; and make your own pizza -- it's easy and much cheaper, especially when using pre-made pizza shells.
-- On weekends, have friends over instead of going out. Everyone can bring something to eat and drink to help get the party started.
There are always ways to save money. The key is to identify them and to follow the steps to stay within budget. With strategies like discount savings programs, consumers can save on the things they need and have some extra money for the things they want, reports Adaptive Marketing.
About Adaptive Marketing
Adaptive Marketing LLC is a leading provider of membership discount programs. Headquartered in Norwalk, Conn., Adaptive Marketing is a category leader in membership programs, bringing value direct to consumers through an array of benefits in healthcare, discounts, security, personal property and personals. Visit AdaptiveMarketing.com to find out more information about Adaptive Marketing LLC.
# # #