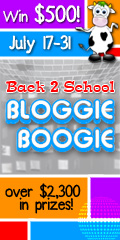 This is a great way to reward online shoppers and simultaneously expand our social media outreach
Kensington, MD (PRWEB) July 14, 2011
Between July 17th and July 31st, SaveAndMakeMoola.com will sponsor the first Back 2 School Bloggie Boogie Giveaway with a $500 cash grand prize. The giveaway is hosted by The WiC Project and Barefoot Mommies with 25 other blogs participating in the event. Save and Make Moola partners with over 2,500 stores, providing online shoppers more than 17,000 promotions and online coupons on a daily basis.
The Bloggie Boogie giveaway will celebrate the start of the school season by rewarding parents with prizes and increasing the readership of these blogs. Each of the 25 blogs must have a minimum of $75 in online prizes to participate in the event. Many of these blogs create unique uses for household items, catering to mothers and children.
After entering one online giveaway, participants can blog hop for a chance to win another prize and earn more odds toward the grand prize from Save and Make Moola. In order to win the $500 cash prize, there will be a separate entry form required by Save and Make Moola.
A blog hop occurs when a link list is shared by multiple blogging sites. Blog hopping not only allows viewers to read entries and leave comments, but share links and, in this case, participate in online contests.
Concerning the event, the founder of Save and Make Moola, Carlos Underwood, says, "This is a great way to reward online shoppers and simultaneously expand social media outreach."
The Save and Make Moola Blog will promote the blog hop giveaway, and the company plans to use its social media outreach channels like Facebook to alert consumers on valuable daily deals and online coupon codes. The company can be located on Twitter @savemooola.
Some of the other blogs participating in the giveaway include: Military Travel Mama, 7 On A Shoestring, Saving In Akron, and Mom Start. A complete list of the participating blogs can be found at http://www.wicproject.com/giveaway/b2s-bloggie-boogie/.
About Save and Make Moola:
Save and Make Moola was founded by Carlos Underwood in March 2011. It began as a spin-off project for web design company ThreeCell, LLC. Its mission is to provide the thrifty shopper with easy access to online retail deals and discounts. It has partnered with trusted retailers nationwide to bring customers the best discounts and savings online. To start using online coupons, go to http://www.saveandmakemoola.com.
About The WiC Project:
The WiC Project is a PR-friendly, faith-based blog that specializes in writing reviews, hosting giveaways, and promoting new products such as household appliances, health and beauty products.
About Barefoot Mommies:
Barefoot Mommies writes reviews, hosts contests and giveaways and is geared towards promoting family-friendly products for moms and children.
Contact:
Carlos Underwood
press(at)saveandmakemoola(dot)com
703-879-6438
###