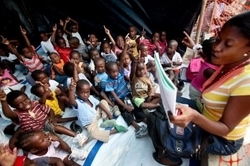 Washington, DC (Vocus) March 13, 2010
Port-Au-Prince, Haiti (Vocus) March 12, 2010 -- Two months after Haiti was devastated by a 7.0-magnitude earthquake, thousands of children and families who were already facing a daily struggle to recover from the disaster now must contend with the rainy season. Save the Children is working to assist survivors and support children as they attempt to rebuild their lives.
The January 12 quake affected 3 million people, killing more than 220,000 people and leaving more than 1 million homeless and living among the ruins of Port-au-Prince, Léogâne and other shattered towns and villages.
Save the Children is continuing to provide emergency assistance to save lives, alleviate suffering and assist in the recovery of 800,000 people, among them 470,000 children, affected by the earthquake in Haiti. Of particular concern is the health and well-being of children as the rains have begun, swamping temporary settlements and increasing the risk that infectious diseases may take hold among vulnerable populations.
"The rains are only increasing the misery level for children and families," said Bruno Oudmayer, Save the Children's emergency team leader in Haiti. He added, "Displaced children were already vulnerable to disease, malnutrition and exploitation. Now they face the potential for waterborne illnesses and other dangers if their living conditions deteriorate. We must continue to support their health and protection needs as we also work to ensure that families have sufficient shelter and improved sanitation within the settlements to help them through this next potential crisis."
Shelter Kits Delivered to Thousands:
Save the Children has provided shelter materials to more than 7,500 households. The organization will continue to provide shelter kits — containing household items that may have been lost in the disaster — as well as cash grants and essential shelter materials. In addition, it is delivering food and clean water; building water distribution points and latrines; and working to promote good hygiene practices.
The organization continues to expand its health and nutrition programs. Its mobile health teams in Port-au-Prince, Léogâne and Jacmel treat scores of patients, screen children for malnutrition, deliver babies, provide vaccinations and visit pregnant women and those who have recently given birth.
Save the Children has 16 infant care tents in the camps, where mothers have a quiet private place to breastfeed and where malnourished children receive treatment.
Other lifesaving and life-improving activities include: livelihoods programs to help families improve their economic status while also bettering their communities; child-friendly spaces where children can regain a sense of structure and normalcy; and education assistance, providing tents for temporary classrooms, educational materials and supplies.
Save the Children has been assisting children and families in Haiti for more than three decades, and now has nearly 700 staff on the ground in Haiti.
Please help us respond to the Haiti emergency by donating now.
Donate at http://www.savethechildren.org or by calling 1-800-728-3843 or 1-203-221-4030.
Or donate $10 by texting "SAVE" to 20222 (U.S. Only). Standard message rates apply.
Learn more about our emergency response to the earthquake in Haiti.
Save the Children is the leading, independent organization that creates lasting change for children in need in the United States and around the world. Save the Children USA is a member of the International Save the Children Alliance, a global network of 29 independent Save the Children organizations working to ensure the well-being and protection of children in more than 120 countries. Follow us on Twitter and Facebook.
Media Contact:
Kate Conradt
kconradt(at)savechildren(dot)org
202-640-6631(W)
202-294-9700 (C)
###