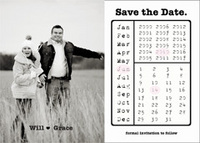 Raleigh, NC (PRWEB) April 30, 2009 -
Doodlebug Dezigns, a leading online retailer of birth announcements and photo cards, announced today the availability of its new line of Save-The-Date photo wedding card collection. This creative line of photo cards offers fresh designs for the bride to be.
Wedding planning starts the moment the ring slips on a woman's finger. The first step in the planning process is to get guests in the loop and on their calendar. For many brides the best way to do this is to send a pre-invitation mailing which officially announces your wedding date and lets your guests know when, where, and that they in fact are going to be invited to this special occasion. Save-the-date photo cards have become a standard curtsey, especially for ceremonies scheduled during the holidays or summer. As a general rule it is best to start mailing save-the-dates around six months prior to the ceremony.
Doodlebug Dezigns' new save-the-date photo cards enables brides to send a personalized high quality card announcing their special day. The new designs range from classic and trendy to elegant and timeless. Each design can be customized to meet even the most demanding bride's desires. Along with a wide range of choices, cards can be customized to fit your needs.
Doodlebug Dezigns is a custom announcement boutique, enabling brides to work directly with a designer to create something truly unique.
For more information on save-the-date photo cards, as well as holiday cards and birth announcements from Doodlebug Dezigns visit http://www.doodlebugdezings.com
About Doodlebug Dezigns
Doodlebug Dezigns, LLC is a web-based company offering custom photo announcements for life's most important events. Doodlebug Dezigns provides a wide variety of modern and classic photo cards from birth announcements to holiday photo cards and now save-the-date and wedding invitations. Doodlebug Dezigns is committed to helping their customers leave a lasting impression for any occasion.