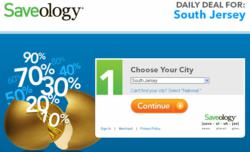 Saveology Daily Deals is a great economic booster to cities around the country
Atlantic City, New Jersey (PRWEB) September 23, 2011
Saveology, an innovative daily deal startup that features national, regional and local deals in 28 markets, is proud to announce the launch of its newest market: New Jersey. One of the country's most diverse states, New Jersey consumers will finally have access to Saveology's next-gen deals. Further, local businesses will be able to utilize Saveology's revolutionary daily deal 2.0 model which features a larger percentage of revenue to the merchant and the fastest turnaround time on payment delivery.
"Saveology Daily Deals is a great economic booster to cities around the country," said Saveology CEO Benzion Aboud. "We are excited to come to New Jersey and bring our deals and help support local businesses and provide great deals for local residences."
Today, Saveology also opened deals in 14 other markets including Cincinnati, Las Vegas and Honolulu.
Saveology presents a business model that benefits both merchant and consumer through a variety of different avenues including an extremely competitive merchant revenue-share on deals purchased, a lead generator, a coupon generator and a reach of over 4.5 million people that is increasingly broadening brand awareness.
Saveology's daily deals offer local and national businesses unique deals ranging from car leases and excursions, to sporting events and family-fun packages. Subscribers can even set up a profile to get only certain deal types to only receive deals of interest.
To subscribe to deals, visit saveology.com. Additionally, Saveology encourages subscribers to visit the Facebook and Twitter pages.
About Saveology
Saveology is a leading Internet-based direct marketing platform focused on providing consumers the ability to obtain the best deals on services and products. Through Saveology Home Services, the Company operates the largest comparison shopping destination focused on cable, satellite television, Internet, telecommunications, home security, financial, warranty, wireless, tech support and moving services. Saveology Daily Deals is a new and innovative daily deal startup leveraging the home services business and featuring national, local and regional deals in over 28 markets. Saveology Daily Deals' performance based media outlet approach includes a larger revenue share with merchants than other daily deal companies, lead generation programs, coupon generators and access to millions of people for brand awareness. Saveology.com's corporate offices are in Fort Lauderdale, FL. To learn more about Saveology Home Services, visit http://www.saveologyhomeservices.com. To subscribe to Saveology Daily Deals, visit saveology.com.
###