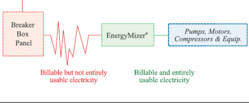 (PRWEB) April 13, 2012
The Energy Mizer solution is a series of modules that are installed to breaker panels of a business. Freedomfflow LLC, a company that markets essential services for homes and business, is announcing the addition of the Energy Mizer solution by EMS to its portfolio of products. Saving on energy has never been a more critical component to a business staying in business. This proven and guaranteed technology has been adopted by many major businesses, including major hotel chains, auto dealerships, restaurants, and manufacturing facilities, and is now getting the attention of all sectors of business, big and small.
Installed free of charge, the device offers a business an immediate positive cash flow result from adopting the technology. The Energy Mizer results in an immediate saving of energy by reducing the electricity usage and increasing the power factor. This results in a cost reduction from the first month since there is a rental option for the Energy Mizer. When a company chooses to rent the Energy Mizer the monthly cost savings exceeds the modest monthly rental, resulting in an immediate cash savings for a business.
This is the type of solution that every business needs. It is also considered a "green" solution, since its reducing the amount of wasted energy. So a company can take advantage of this from a branding standpoint by advertising their environmental awareness and being part of the saving of energy solution.
The "power factor" mentioned earlier is of critical importance to the power companies and thus to the price you pay for electricity. Power Factor is a measure of how efficiently a facility uses electricity. Having a high power factor means equipment is operating more efficiently. A poor power factor requires the utility to invest in additional generation, distribution and transmission infrastructure. Having a poor power factor incurs cost penalties from a business' energy provider as it costs them more to service the power needs for that company.
The Energy Mizer guarantees a minimum 8% saving on energy, but the average savings is between 10% and 12%, and there are documented savings of up to 16%.
The savings varies based on the type of electrical demands of each business. The higher the inductive load, the higher the savings will be. Inductive loads occur when motors turn on and off. So businesses with a lot of refrigeration, air conditioning, or machinery are primary candidates to reach the higher end of the spectrum of saving on energy. However, just about every business can benefit.
A business can request a free power consumption analysis. This will result in a comprehensive proposal that will show both the guaranteed and projected average savings a business will realize.
There is absolutely no risk to getting this analysis, and there are several payment options. As stated, the Energy Mizer can be rented. This is the only device of this type where a rental option is available. This is the most popular option given it provides an immediate monthly cost reduction to a business. However, a business that is not as concerned about its monthly cash flow might consider leasing or purchasing the Energy Mizer. The ROI on a purchase can be as short as 18 months. The Energy Mizer is fully guaranteed and has a 6 year warranty, yet its projected life span is 25 years.
Saving on energy is a smart business decision. Freedomfflow LLC can be contacted via their website by companies interested in getting a free power consumption analysis.