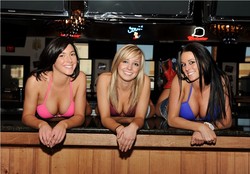 We should not have to pay for a mistake that the city made
Austin, TX (PRWEB) June 21, 2010
Austin, Texas (PRWEB) 21, June 2010. Sixth Street in Austin, Texas, is acknowledged for its rich abundance of bars, clubs, and restaurants; and earlier this month, the Bikinis Sports Bar and Grill on Sixth Street got word that they were being forced to take down their glowing neon sign, which cost the company approximately $35,000.
"We followed the rules by applying for a sign permit and got approved for it. I didn't expect to have to deal with an issue like this nearly a year later. We've been open since September of last year, and have been busy ever since. I believe our visibility on Sixth Street has a great deal to do with that. We should not have to pay for a mistake that the city made," says Doug Guller, the owner and founder of Bikinis Sports Bar and Grill.
The sign was approved by the City of Austin, but because the building is considered to be historic, the application needed to be forwarded to the Historic Landmark Commission before final approval, something that the Permit Administrator failed to do. Now, the city's mistake could cost Bikinis their sign.
It doesn't seem like Guller is the only one concerned with the issue. "If it wasn't for the sign, I would have never found Bikinis on such a busy street." said Chris Pearson, a concerned customer. "I think it's totally unfair that the city is doing this; it's their mistake, and so I plan on marching with Bikinis to show my support."
He isn't the only one supporting Bikinis in their fight against the city. Customers and employees have come together and made a unanimous decision to march into City Hall with Guller, dressed in their supporting attire. What might that be you ask? Expect to see lots and lots of Bikini girls dressed in the Bikinis uniform with picket signs in hand.
Bikinis Sports Bar and Grill on Sixth Street opened in September 2009. The company currently has six Bikinis locations and began franchising this year. For more information regarding Bikinis Sports Bar and Grill, please visit http://www.BikinisSportsBarandGrill.com. For information about our annual Bikinis calendar, visit http://www.BikinisCalendar.com