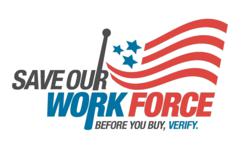 Large companies making record profits have no incentive to keep jobs in America because outsourcing is invisible to the consumer.
Hawthorne, CA (PRWEB) August 28, 2012
America's middle class is shrinking in size with a decade of declining household income according to a report released last week by Pew research. Pew cites statistics showing that middle class earnings and net worth have dropped since the mid-2000s and that about 85% of the middle class say it is harder to maintain their standard of living than it was 10 years ago. The disappearing middle class has not gone unnoticed by young people. Students across the country recognize this problem and believe they have found a possible solution; building a social networking organization called SaveOurWorkforce.
The dwindling middle class creates enormous employment challenges with the "Generation Y" workers — those age 18 to 29. After college a growing number young people say they have no choice but to take low-skilled jobs, according to a survey of 500,000 young workers carried out between July 2011 and July 2012 by PayScale.com, a company that collects data on salaries. Another report by Rutgers University in May 2012 came to the same conclusion and found that a large percentage of recent college graduates are far from a secure career path with a full time job and benefits. "Graduates of four-year colleges and universities, believe the American dream of upward mobility may have stopped with them," says Cliff Zukin, Professor and co-author of the study.
"For several months students across the country have been studying this problem," explains Ross Mazzolini, a student at Texas Tech University. He goes on to say "Large companies making record profits have no incentive to keep jobs in America because outsourcing is invisible to the consumer." Another student Nestor Crespin, at Loyola Marymount University explains, "We determined the root cause of America's declining middle class and then brainstormed a solution using newly available social networking tools and created SaveOurWorkforce." The organization's goal is to gives large companies incentive to keep jobs in America by providing a tool for consumers to easily monitor, encourage, and reward businesses that provide jobs to American families.
The SaveOurWorkforce high school and college clubs will track and report the U.S. workforce size of the largest corporations in America and provide the database to the public free of charge on their website. The website tool "Before-You-Buy, VERIFY" empowers consumers to direct their purchases towards companies that support the U.S. Workforce the most. "Using this tool strongly encourages businesses to keep jobs here in America," says Mario Palma, a student at El Camino College.
About SaveOurWorkforce
SaveOurWorkforce is a nonprofit organization with the mission to save and rebuild the American workforce. Founded in 2012 by high school and college students, the organization encourages the involvement of students, individuals, and companies throughout the country at their website http://SaveOurWorkforce.org. Students (13 years and older) are asked to join and track the company workforce sizes in their area. Individuals (the 99%) are asked to join and use the free tool "http:// Before-You-Buy, VERIFY" that encourages businesses to keep jobs in America. Companies are also asked to join and partner with the youth to help keep jobs in America at http://SaveOurWorkforce.org