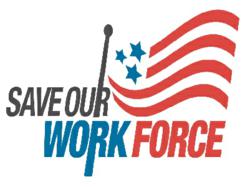 For several months students have been brainstorming a solution to reduce unemployment.
Hawthorne, CA (PRWEB) August 31, 2012
Two months out from Election Day, nearly a quarter of all registered voters are either undecided about the presidential race or iffy in their support for a candidate, as reported by an Associated Press-GfK poll conducted Aug. 16-20th. These voters could well prove crucial in a close contest between Barack Obama and Mitt Romney. A recent survey indicates the economy is an "extremely important" issue for voters in crucial battleground states of Florida, Wisconsin and Ohio , according to Quinnipiac University/CBS News/New York Times poll conducted August 15-21. For many of these voters it may come down to which candidate has the best plan to reduce unemployment now at 8.3 percent and halt the decade long decline of the middle class as report released last week by Pew research. According to some bright young people, neither candidate has a workable plan. Not to worry, kids brainstormed a solution for the candidates and it can be found at [SaveOurWorkforce.org.
Some bright kids reviewed both the Obama and Romney "job plan" and their conclusion is neither candidate has a practical proposal. "No worries" says Austin Mazzolini attending California Academy of Math and Science, a school ranked nationally in the top 1 percent as reported by U.S. [News 2012 Best High Schools. He goes on to say, "kids enjoy thinking about problems and coming up with solutions for them. We approach problems differently than adults because we have no preconceived views." Eric Palma, another student at the same school explains "brainstorming is all about encouraging wild ideas and having lots of thoughts which kids are good at."
So what does the kids think is wrong with the Obama and Romney "jobs plan"? "President Obama's plan focuses on federal spending and tax incentives; which we believe is a short term solution to a long term [unemployment problem", explains Nestor Crespin, attending Loyola Marymount University in Los Angeles. "For Mr. Romney, his plan centers on the private sector creating more jobs; however we believe companies making record profits are still not hiring because they have no incentive to keep jobs in America.", says Steven Sisley, at Brevard Community College in Florida. What solution do these kids have for Obama and Romney?
"For several months students have been brainstorming a solution to reduce unemployment," explains Austin. "Large companies making record profits have no incentive to keep jobs in America because outsourcing is invisible to the consumer." The youth say this "invisible outsourcing" is the root cause of the high levels of unemployment and they can make it easy visible using newly available social networking tools with SaveOurWorkforce." The organization's goal is to gives large companies incentive to keep jobs in America by providing a tool for consumers to easily monitor, encourage, and reward businesses that provide jobs to American families. The high school and college clubs will track and report the U.S. workforce size of the largest corporations in America and provide the database to the public free of charge on their website. The website tool "[Before-You-Buy, Verify" empowers consumers to direct their purchases towards companies that support the U.S. Workforce the most. Mario Palma, a student at El Camino College explains, "Using this tool strongly encourages businesses to keep jobs in America. We would like President Obama and Mr. Romney to embrace the solution as it is a win-win for America."
About SaveOurWorkforce
SaveOurWorkforce is a nonprofit organization with the mission to save and rebuild the American workforce. Founded in 2012 by high school and college students, the organization encourages the involvement of students, individuals, and companies throughout the country at their website http://SaveOurWorkforce.org. Students (13 years and older) are asked to join and track the company workforce sizes in their area. Individuals (the 99%) are asked to join and use the free tool "Before-You-Buy, Verify" that encourages businesses to keep jobs in America. Companies are also asked to join and partner with the youth to help keep jobs in America at SaveOurWorkforce.org.