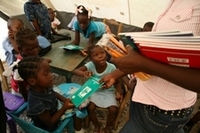 Education is too important to be put on hold, especially in the aftermath of a disaster of the magnitude of the Haiti earthquake
Westport, CT (Vocus) March 6, 2010
Port-Au-Prince, Haiti (Vocus) March 5, 2010 -- Classes have begun again for the children of Cejecodema School in Martissant, an area on the outskirts of Port-Au-Prince in Haiti, thanks to assistance from Save the Children. The humanitarian agency has provided classroom tents and supplies so that hundreds of children in this quake-affected area could reinitiate their studies and regain a sense of normalcy.
In Martissant, where homes and buildings were destroyed by the January 12 earthquake, the large tents ensure that children can continue their education and play and interact with each other in a safe environment. Since the temporary school opened two days ago, attendance has increased by a dozen students, from 120 students to 132 students, and, the school director estimates the number of students could climb to up to 400.
Save the Children is focusing on offering children safe, temporary classrooms across the earthquake impact area as a key measure in helping vulnerable children recover from the disaster. The agency plans to set up about 300 temporary classrooms over the coming weeks, which would include repairing some less damaged school structures.
The Ministry of Education estimates that 90 percent of schools in the affected areas have been damaged or destroyed; that over 400,000 children have been displaced; and that only 50 percent of students returned to the schools that were undamaged and which reopened February 1.
"Children have been profoundly affected by the events they have witnessed and experienced. Hundreds of thousands of children have been displaced, which is likely to have increased their sense of anxiety and fear, especially as aftershocks continue and buildings, including schools, continue to collapse," said Annie Foster, Save the Children's emergency team leader in Haiti.
Foster added, "These temporary classrooms provide children with urgently needed structured activities in a safe and protective environment, to help them return to normalcy, rebuild their resilience and have hope for a better future."
Only 51 Percent of Children Attended School Before the Earthquake
In Martissant, 10-year-old Jimmy was in class for the first time since the earthquake.
"I like to study, and I want to learn," said Jimmy. "My school fell in the quake but I don't want to go back to it because I am afraid to have concrete over my head. I like this space because it is outside. I feel safe here."
In a country where only 51 percent of children attended school before the earthquake and where, on average, children only completed four years of schooling, the impact of this disaster on education is a huge challenge. To ensure that children continue to have access to schools, Save the Children will work with both government schools and with private and community schools.
"Education is too important to be put on hold, especially in the aftermath of a disaster of the magnitude of the Haiti earthquake," said Foster. "Education is not just a right; it can help protect children from disease or death by teaching them about hygiene and health concerns that have emerged as a result of the emergency. Education supports children's psychosocial well-being, offering structure and a place to interact with others in positive and developmental ways."
Save the Children has been assisting children and families in Haiti for more than three decades. In the hours and weeks following the quake, Save the Children distributed relief items, such as cooking utensils, soap, plastic sheeting, clean water, medicine and medical supplies, reaching more than 500,000 people with lifesaving relief. The agency has more than 500 staff in Haiti responding to the crisis.
Please Help Us Respond to the Haiti Emergency by Donating Now
Donate at http://www.savethechildren.org or by calling 1-800-728-3843 or 1-203-221-4030.
OR DONATE $10 BY TEXTING "SAVE" to 20222 (U.S. Only). Standard message rates apply.
Learn more about our emergency response to the earthquake in Haiti.
Save the Children is the leading, independent organization that creates lasting change for children in need in the United States and around the world. Save the Children USA is a member of the International Save the Children Alliance, a global network of 29 independent Save the Children organizations working to ensure the well-being and protection of children in more than 120 countries. Follow us on Twitter and Facebook.
Media Contacts:
Eileen Burke (w) 203-221-4233 (c) 203-216-0718
Sarah Tyler (Haiti) 447958337624
# # #