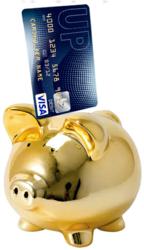 This new savings purse and SaveUp rewards program substitute for a traditional savings account and rewards program as well, only they are simpler and potentially more rewarding.
New York, NY (PRWEB) November 01, 2011
Plastyc, provider of affordable, easy to use banking services, announced a new one-click savings purse for its UPside Visa and iBankUP online prepaid accounts, which serve as alternatives to traditional checking accounts. The savings purse, available this week, makes it simple to set aside money for a rainy day and to participate in SaveUp, a partner personal savings reward program that went live today.
Unlike traditional checking and savings accounts, the new UPside and iBankUP savings purse makes it easy to save money automatically, and there are no separate accounts or separate statements to deal with.
With one click, UPside and iBankUP account holders can set aside, effectively hiding so they it can't spend it using their debit cards (without first moving the money back into the main balance). With another click, people can set up set goals and automated daily, weekly, or monthly deposits to the savings purse.
The savings purse also lets customers link to SaveUp, a new nationwide rewards program for personal savings. UPside Visa and iBankUP customers are eligible to earn one credit for every $1 increase in their savings purse. SaveUp issues the credits daily, which can be redeemed for chances to win instant prizes and entries into weekly and monthly drawings. SaveUp's prizes range from the exciting (retail gift cards, consumer electronics) to aspirational (luxury vacations, home or wardrobe make-overs) to life-changing (a new car, money for college tuition or debt pay-off, or a $2 million jackpot).
"UPside Visa and iBankUP offer customers a shot at second chance banking and often substitute for a traditional checking account," said Patrice Peyret, CEO of Plastyc. "Now this new savings purse and SaveUp rewards program substitute for a traditional savings account and rewards program as well, only they are simpler and potentially more rewarding."
"At SaveUp, our mission is to help Americans to succeed financially by motivating and rewarding them for saving money and paying down their debts. That's why we're proud to partner with Plastyc, whose focus on helping Americans save money complements our own efforts," said Priya Haji, CEO of SaveUp. "Plastyc's effective savings program combined with SaveUp's innovative rewards program can give Americans that extra motivation and help their need to save more money and strengthen their financial foundations."
About Plastyc
Plastyc delivers good banking to all by providing 24x7 access to FDIC-insured accounts through any Internet-connected computer or cell phone. Unlike traditional checking accounts, Plastyc's iBankUP portal and UPside cards never incur overdrafts, and they offer better services at lower prices, with more ways to receive money and no risk of over-spending it. Plastyc's principals and directors have a track record as financial services innovators at companies including Gemalto, Oberthur, Signio (now part of PayPal, an eBay company), ClairMail, Lending Club, and Genetic Finance. Plastyc is privately held with headquarters in New York City. For more on Plastyc, please visit http://www.plastyc.com.
About SaveUp
Founded in 2011, San Francisco-based SaveUp created the first free nationwide rewards program that encourages Americans to save money, pay down their debts and make positive changes to their financial behaviors. By partnering with major consumer brands and financial institutions, SaveUp gives players the opportunity to win exciting or life-changing prizes for performing positive financial actions. The company is funded by BlueRun Ventures and True Ventures. For more on SaveUp, please visit http://www.saveup.com.
# # #