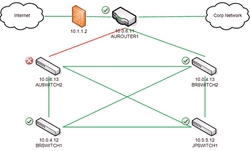 Xian Network Manager provides data and alerts; Live Maps brings it all together into an easy to understand graphical representation
Utrecht, The Netherlands (PRWEB) February 24, 2009
Savision and Jalasoft announced today that they have signed a partner agreement to give Jalasoft the possibility to bundle Savision´s Live Maps solution with Jalasoft Xian Network Manager Io. Xian Network Manager Io and Savision's Live Maps are both products designed to work with Microsoft System Center Operations Manager 2007. Live Map's elaborate mapping features give Xian users the power to create network aware topologies, business process and geographical maps of your network. Additionally, Xian Network Manager adds network devices till interface level allowing you a detailed view of your topology so you can pinpoint exactly where the problem is located.
"Xian Network Manager provides data and alerts; Live Maps brings it all together into an easy to understand graphical representation" said Arnold Hagens, Sales Manager at Jalasoft, "Customers who combine these two products with Operations Manager 2007 will be astonished by the visualization power."
For more information contact:
Claudia Ricaldez, Claudia.Ricaldez(at)jalasoft.com, +1 888 402 6717
or
Dennis Rietvink, Dennis.Rietvink(at)savision.com, +31 30 2442351
About Jalasoft
Jalasoft provides advanced systems management solutions for the heterogeneous computing environment. Xian Network Manager Io, in combination with Microsoft System Center Operations Manager or Microsoft System Center Essentials, is designed to proactively monitor and manage critical infrastructure components such as network devices and UNIX servers to increase availability and accelerate problem detection and resolution with the objective of improving the ROI customers realize from their infrastructure.
About Savision
Savision provides advanced visualization solutions for Microsoft's System Center Operations Manager. Savision's Live Maps allows IT Pros to quickly create monitoring maps that visualize business processes, network and service topologies, executive dashboards and geographical maps. Founded in 2006, Savision is headquartered in the Netherlands and is privately held. Savision's founders and executives bring years of enterprise systems and application management experience from large IT service companies. For more information, go to savision homepage.
###