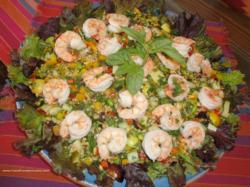 Whole grains are important because they supply necessary fiber and nutrients, yet only 40% of Americans eat any whole grains at all," says Fenster.
Denver, CO (PRWEB) September 21, 2011
Carol Fenster is the featured cookbook author at the 10th annual Harvest Festival at the Holy Cross Abbey Winery in Canon City, CO, the largest winery on Colorado's Front Range. On September 24-25, the festival, in its 10th year, celebrates wines made from local varietals. It also celebrates local artists and local produce, so Fenster will demonstrate whole grain dishes with Colorado ingredients including quinoa, an ancient whole grain from Peru and sorghum, an ancient grain from Africa and Egypt. Both grains are grown in Colorado.
"Whole grains are important because they supply necessary fiber and nutrients, yet only 40% of Americans eat any whole grains at all," says Fenster, "falling far short of the USDA's recommendation of 3 to 5 servings per day." According to the Whole Grains Council a grain is "whole" only when it is consumed in a form that includes the bran (outer layer and primary source of fiber), germ (the part that sprouts into a new plant) and endosperm (the bulk of the seed).
Fenster, co-author of Whole Grains in the Gluten-Free Diet will demonstrate grain salads made with local produce and herbs. In addition to traditional tan quinoa, she will also make dishes using sorghum and the more earthy-flavored red quinoa. All of the dishes she demonstrates are from her latest cookbooks, 125 Gluten-Free Vegetarian Recipes and 100 Best Gluten-Free Recipes and can be made with other whole grains such as brown rice, buckwheat, or millet.
High in protein, quinoa is called the "mother grain" and is one of the most nutritious grains on earth because it contains all of the essential amino acids. When paired with fruits and vegetables, plus enticing spices and herbal salad dressings, it becomes a delectable powerhouse of nutrition, says Fenster and is perfect for vegetarians and vegans seeking protein-rich foods. She suggests rinsing the grains before cooking to remove saponin, a natural coating that repels insects and is bitter-tasting, though safe for humans. Whole grain sorghum is also very nutritious, with a taste and hearty texture similar to bulgur wheat.
Fenster has made it her mission to encourage people to eat more whole grains. "Most people would eat more whole grains if they had more time to prepare them," she says. So, her demonstration stresses these timesaving tips:
[1] Rice cookers cook whole grains without the need for tending or stirring, freeing you up to do other things while they cook. The timer lets you know when the grains are done.
[2] Slow cookers are perfect for long-cooking grains such as brown rice or sorghum. They cook slowly overnight or while you are at work, ready to eat when you walk in the kitchen.
[3] Cooked whole grains can be frozen in individual portions and reheated as needed, allowing you to have several meals from just one cooking session.
Fenster will sign her cookbooks during the festival, located at the Holy Cross Abbey Winery, 3011 E. Hwy. 50, Canon City, CO. Admission and parking are free. For more information on the festival, visit http://www.AbbeyWinery.com
###