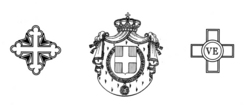 The Savoy Foundation funds disaster relief efforts and hospice care for the poor, sick and infirm
New York, NY (Vocus) December 16, 2010
The American Foundation of Savoy Orders announces the establishment of the Savoy Orders Pigott Scholarship Fund. The Fund was launched by a gift from industrialist and philanthropist Mr. Mark Pigott. The Scholarship will fund study in the Humanities and International Affairs for students enrolled in accredited colleges and universities. Savoy Orders Foundation Chairman Carl J. Morelli said, "We are very grateful to the family of Mark Pigott for their leadership gift. We are delighted about the launch of this program. It is particularly timely given the current economic challenges and the greater financial difficulties college and graduate students are experiencing in the pursuit of their careers."
The announcement of the scholarships was made at the Savoy Foundation's annual Ballo di Savoia (Savoy Ball) gala event in New York City on December 11, 2010, which was in the presence of Their Royal Highnesses Prince Victor Emmanuel and Princess Marina of Savoy.
The Savoy Orders Pigott Scholarships will be awarded annually to college students for study at accredited academic institutions in humanities studies: archaeology and classical antiquities, language, literature, culture, history, politics and society. Recipients of the International Affairs Scholarship will become interns to the Savoy Foundation's representatives at the United Nations and will attend NGO briefings at the United Nations.
Mr. Mark Pigott is chairman and chief executive officer of PACCAR Inc., a Fortune 150 global technology company based in Bellevue, Washington. Mr. Pigott shares, "These scholarships will nurture education, particularly in the humanities as a starting point for careers in business, education and politics. They will provide an opportunity for young men and women to learn about other cultures and the benefits of collaboration in charting solutions to global challenges that will benefit all parties."
"The Savoy Foundation funds disaster relief efforts and hospice care for the poor, sick and infirm," explained Savoy Foundation President Marco Grassi. "The establishment of the Savoy Orders Pigott Scholarships will enhance our mission of fostering the studies in the Humanities and International Affairs."
PACCAR Inc is a global technology leader in the design, manufacture and customer support of high-quality light, medium and heavy-duty trucks under the Kenworth, Peterbilt, and DAF nameplates. The Pigott family and PACCAR have generously supported organizations such as St. George's Society, Order of Malta, Stanford University, New York Public Library, and United Way. Mr. Pigott's leadership in business, education, and the arts has been recognized by many countries and organizations, including: Cambridge University (Guild of Benefactors), Officer of the Order of the British Empire (OBE) (UK), Commander of the Order of the Crown (Belgium), Officer of the Order of Orange Nassau (Netherlands), Knight's Cross of the Order of Merit (Hungary) and the National Medal of Technology (USA).
The American Foundation of Savoy Orders, Incorporated, a New York not-for-profit 501(c)(3) charitable organization founded in 1993, is a Non Governmental Organization (NGO) in roster consultative status with the Economic and Social Council of the United Nations. It has three endowment funds: charitable causes, educational programs and operating expenses.
For more information on the scholarships, please contact:
The American Foundation of Savoy Orders, Incorporated
380 Lexington Avenue, Suite 4400
New York, New York 10168
Tel: 212-972-1100, ext. 245
Web Site: http://www.savoia.org.
###