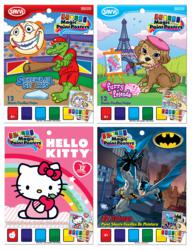 Travel blogger The Tourist Baby shares that Magic Paint Posters are 'very convenient to use. Children just tear out the picture they want to paint, dip a cotton swab in water and they are set to go.'
Tucson, AZ (PRWEB) April 17, 2012
As parents and teachers plan summer activities for kids, many are concerned about safety. Savvi Magic Paint Posters are the perfect solution to the search for safe toys – they're affordable, easy to use and always made in the USA.
Since the new proprietary paint technology was released in 2010, Magic Paint Posters have been an overwhelmingly popular product for Savvi. Each paint poster comes with a watercolor paint palette printed directly on the paper. Children activate the paint colors with water, using a paintbrush, a cotton swab, or their finger. The paint is washable from hands and most machine washable fabrics. All Savvi paints are produced in the USA with non-toxic ingredients that exceed FDA safety standards.
Magic Paint Posters are also great toys for summer traveling. Instead of carrying messy paints or markers on a plane or car trip, parents can pack no-mess paint posters and built-in paint palettes. Kid travel blogger The Tourist Baby tested Magic Paint Posters on a recent flight, and noted that "children just tear out the picture they want to paint, dip a cotton swab in water and they are set to go." The Tourist Baby was happy to find that Magic Paint Posters "were very convenient to use. The posters are about 6.5" by 8.5" and are lightweight, so they are easy to throw into a bag."
Savvi has even released Magic Paint Posters themed with kids' favorite characters, such as Hello Kitty, Batman, Scooby-Doo and Pillow Pets. Savvi Magic Paint Posters can be found at most major national retailers, including Walmart, Toys R Us, Walgreens, Dollar General, and Michaels.
ABOUT SAVVI
Savvi is a premier US manufacturer of printed novelty products. Savvi products are sold internationally at major discount retail, grocery, craft supply and toy stores. In addition to being the world's largest manufacturer of temporary tattoos, Savvi also produces a wide variety of craft and children's activity products. Savvi designs and manufactures all products in the USA at its Tucson, Arizona headquarters. Products are non-toxic, hypoallergenic, use FDA certified colorants and comply with CSPC and ASTM requirements. All products exceed US, Canadian and EU safety standards. More information is available at http://www.savvistuff.com.