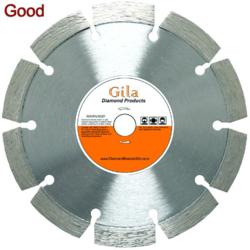 City of Industry, CA (Vocus/PRWEB) March 16, 2011
GilaTools.com, an online supplier of saw blades for the construction industry, is offering huge discounts for the entire month of March. Every two weeks, selected items will be offered at discounted prices through GilaTools.com's bi-weekly email campaigns. Customers who wish to receive updates on bi-weekly deals must subscribe to the GilaTools.com mailing list. Starting off this March are major price reductions on the best-selling Premium Segmented Blade and Premium Tile Blade.
At 30% off its original price, GilaTools.com's best-selling Premium Segmented Blades are general purpose blades perfect for contractors who need a low upfront cost blade with a fast cutting speed and high durability. Premium Segmented Saw Blades may be used for dry or wet cutting and are ideal for angle grinders, circular saws, masonry saws, and gas cut off saws.
In addition to the Segmented Blades, Premium Tile Saw Blades are now available at 40% off their original price. Premium Tile saw blades from GilaTools.com are specially designed for wet cutting and are able to cut through all types of ceramic tiles, porcelain, and marble. Tile blades utilize special grade diamonds for precision cutting with minimum chipping and long life and can be used with angle grinders and tile saws.
To receive regular updates on future deals and discounts on selected saw blades and other GilaTools.com products, customers should subscribe to the GilaTools.com's newsletter. As a sign of appreciation, the saw blade supplier offers free domestic shipping for orders worth $50 and above. In stock items are also guaranteed a ship-out within 24 hours.
With a spectrum of diamond saw blades and cutting solutions to meet every client's needs, GilaTools.com's product line includes saw blades, diamond core bits, diamond polishing pads, diamond blade accessories, diamond tool accessories, safety products, and cutting equipment. Visit Gila Tools' official blog for the latest industry news on saw blades and power tools.
About Gila Tools, Inc.
Gila Tools, Inc. is a factory direct supplier of professional quality diamond tools. Gila Tools' industry experience, extensive research, and product testing, provides customers with the best diamond cutting solutions in the construction industry. The company continues its time honored tradition by supplying the construction industry with high quality diamond –based tools at affordable prices. Press release produced by Cybertegic, Inc. - an Internet marketing services agency that specializes in search engine optimized press release marketing (SEO marketing).
# # #