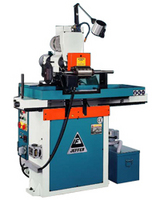 Our grinder exporting to Europe is CE Certified to European standards, and we have attained high quality standards and believe in providing flawless products to our customers
Hazel, KY (PRWEB) October 10, 2009
ASG-550 is a four axle servo-control CNC saw grinder ; the grinding angles, the teeth numbers, and the teeth depth can be automatically set up and controlled. No mater face grinding, top grinding or saw grinding, all of these actions can be done in one time. Without spending a long time on grinding, this machine can make the high quality and accurate grinding performance. The following is part of the features of ASG-550:
*Ceramic magnet chucks provide superior holding power that never fades, and it is easy to replace the chucks.
*Relief angle grinding can be finished in one action.
*This 4 axle servo-control CNC grinder allows setting various feeding curves according to different saw blade diameters.
*Installed the basic automatic lubrication system.
*Equipped with standard spray mist filtration system that with cooling water recycle function.
Jeffer Machinery's grinder is accurate and durable that is well approved by customers in both domestic & export markets. "Our grinder exporting to Europe is CE Certified to European standards, and we have attained high quality standards and believe in providing flawless products to our customers," Mr. Daniel Lin pointed out the high self-motivation that every Jeffer's worker has. "And each our product is well checked by our QC team before dispatching in order to make sure that our customers get the finest machine. Our products are precise and perfectly suit the purposes they are meant for."
It is worth mentioning that Jeffer Machinery Co., Ltd. its production process is well documented to make sure continuous process improvement. The whole production process is carried out in-house, no matter preliminary design, production or the final inspection, they are managed through an IT network with CAD, PDM and CAM capabilities. Besides, all Jeffer Machinery grinders are accepted in the national and international markets and are known for their durability and specialized features.
Jeffer Machinery Co., Ltd. was established in 1980 as a professional manufacturer of straight knife grinders. During the economic exuberance period of the '80s, Jeffer Machinery grew very fast, making a name for itself in the manufacture of innovative grinding machines. Jeffer Machinery's focus in manufacturing grinding machines is to supply customers with solutions incorporating the latest technology and making equipment to provide an efficient manufacturing process. "We strive to collaborate with customers by integrating our grinders into their processes and effectively streamlining their production." said the CEO of Jeffer Machinery Co., Ltd, Mr. Daniel Lin. Over the years Jeffer has designed and built other grinding machines such as carbide tool grinder for small-volume and large-variety production woodworking knife grinding, carbide saw grinder for mass production, profile grinder for extremely precise outer diameter and profile grinding, automatic straight knife grinders for the working lengths ranging from 1600mm to 4000mm, automatic tool grinder for fast & precise tool manufacturing,automatic carbide saw grinder for multi-function grinding...etc. With growth and innovations to meet new market demands, Jeffer Machinery attempts to emerge as a leader in the global grinder marketplace.
Jeffer Machinery Co., Ltd. has a worldwide distribution system; their distributors are located in every continent in the world, all of whom can provide excellent sales and technical support to customers. Besides, Jeffer Machinery's sales technicians are glad to share their experience with customers and provide consultation with the aim of solving your grinding problems.
To know more about Jeffer Machinery or the excellent quality grinding machines, please visit their web site http://www.saw-grinder.com or contact them directly.
Contact information:
Contact person: Mr. Daniel Lin
Company: JEFFER MACHINERY CO., LTD.
Address: No. 211-8, Dongzhou Rd., Shengang Hsiang, Taichung County 42942, Taiwan
Tel: 886-4-2527-3133
Fax: 886-4-2522-6999
Email: jeffer(at)ms19(dot)hinet(dot)net
Website: http://www.saw-grinder.com
# # #