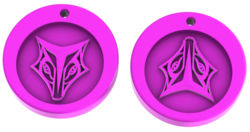 "Such was this Cosmic game of cruel chance,
In Casting these Souls as poles apart;
Hunting each other in a lonely dance-
By Light of the Moon and Beat of the Heart!"
(PRWEB UK) 31 January 2013
Saxon Wolf's love story is set to make a Valentines impact. The eight chapter poem, "The Legend of Saxon Wolf", has been turned into an eight song music album titled "Hunting for Love". It is the story of a male and female wolf set apart by fate; now with a destiny of finding each others love.
The music was débuted through an internet radio channel and survey showed a high public demand despite lack of previous publicity. The music ranges from a mellowing soft rock ballad to an alternative rock. In fact the song "Star Fall" has incredible soothing qualities whilst songs like "Ghost Dance" and "Heart Beat" will have you jumping up and down and swinging yourself around on the dance floor with their catchy upbeat tunes.
Saxon Wolf's fashion concept displays the idea of looking for love, or not looking for love, depending on which way the jewellery is worn. Owner of the brand Jonathan Lloyd said: "There is still much work to do in building the brand, however we have firmly cemented the basic concepts that are to some degree unique and catchy and will take the brand and its image forward. In fact just the logos themselves are easy to identify and are distinctly set apart from other brands. In the near future will follow a range of jewellery and clothing along with its own brand of perfume and cosmetics. This we are going to continue to work on whilst looking for companies to partner with and other positive business opportunities".
An Affiliate Scheme opportunity for internet media, media news, bloggers and websites has been created to capitalize on the up-and-coming Valentine's day. A financial partnering opportunity not to be missed offering a payment percentage of 35%*. Simple registration at saxonwolf.co.uk website combined with a loaded PR pack of pictures and information to further create and expand on this article. It's a golden Valentine's opportunity not to be missed by internet media, etc. All that needs to be done is follow a simple registration process on the saxonwolf.co.uk affiliate page; follow the instructions to get your unique code to cut and paste into your media article, website or blog, etc. to ensure a financial return.
Saxon Wolf has started running a monthly competition from its official website and entry is kept very simple. This month we are giving away a glow in the dark Saxon Wolf logo hoodie and glow in the dark logo t-shirts to the runners up. As development continues the range of Saxon Wolf prizes will expand into other products i.e. jewellery and perfume, etc. to name a few.
*Not available on singles digital downloads where 10% applies. Commission is calculated and applies after VAT and shipping costs.