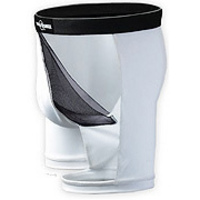 We are a men's underwear company
Los Angeles, California (PRWEB) September 22, 2009
Saxx, the latest innovation in men's underwear, today announced the sale of its 50,000th pair, a milestone reached in the less than two years since the product was introduced and, remarkably, achieved almost entirely by the word of mouth of devoted male consumers. Sales figures were announced today by Saxx Apparel founder, Trent Kitsch.
Saxx' design innovation, its Comfort Side Panels, was developed to prevent contact between a man's testicles and his legs, providing a cool, dry environment of comfort. The side panel design creates a hammock-like pouch from two thin mesh panels, which improve the feel for a man's "package" throughout the day. The side panels are unique to the Saxx design and have added a noticeable benefit to men's underwear, which has not significantly changed in decades.
"We are a men's underwear company," said Kitsch. "We exist to provide a quality product that is comfortable, durable and fashion-conscious. But what makes us unique is our patented design, the Saxx Comfort Side Panels. No man who tries Saxx will be as satisfied with any other underwear, so this sales figure is gratifying, but not surprising."
Saxx first reached the market with an initial offering of 200 pairs in October 2007, which sold out in hours. Kitsch and his team have been perfecting and expanding the product ever since. It is now available in lines including Everyday, Bamboo and Performance, and in boxer brief, trunk and long john styles. Saxx is distributed in the United States and Canada through select retail stores and is available online at http://www.saxxapparel.com.
###